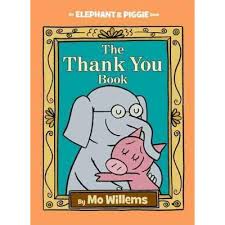 MO WILLEMS PROGRAM IDEAS
     In celebration of the final entry in the "Elephant and Piggie" beginning reader series, have a Mo Willems party!  This type of hands-on program is likely to draw a wide age range, from preschoolers to elementary school-age children (ages 3-9). Because the final book is titled The Thank You Book, (Hyperion, 2016), you could hold this program in November, relating it to Thanksgiving. Of course, you could hold the program any time of year, since Willems' books don't really focus on any holiday or season.
As with all do-it-yourself programming, you can have various stations (tables), run by high school volunteers, offering crafts and games. If you run out of supplies for a station, just close it. Have a variety of activities because some will appeal more to preschoolers, and some will need the skill of an older child.

Refreshments:  Offer cookies and milk, as seen in The Duckling Gets a Cookie (Hyperion, 2012) , or hot dogs as seen in The Pigeon Finds a Hot Dog (Hyperion, 2004). You can also serve ice cream, to celebrate Should I Share My Ice Cream? (Hyperion, 2011).
Crafts: 
Nametags and other crafts: Check out this online event kit with ideas to celebrate Mo Willems' books, including nametags, coloring pages, and more! www.pigeonpresents.com/teachersguides/eandp-pigday-eventkit.pdf
Knuffle Bunny crafts: Visit this kit from HarperCollins, filled with crafts and activities relating to Willems' Caldecott Honor book Knuffle Bunny: 
www.harpercollinschildrens.com/harperchildrensImages/Printable/knuffle%20bunny%20free%20event%20kit.pdf  
Thank You Cards:  Offer construction paper, markers, glitter, and other art supplies for kids to make thank you cards.
Knuffle Bunny: Make this fun and creative Knuffle Bunny project using tempura paint: http://buggyandbuddy.com/knuffle-bunny-art-project-for-kids/
Pigeon Handprints: Make these Pigeon portraits out of handprints and other paint:  http://jugglingwithkids.com/2011/11/dont-let-pigeon-stay-up-late.html
Elephant and Piggie Paperbag Puppets: Make these simple Elephant and Piggie paperbag puppets and use them to act out the books: http://threelittlebirdsnorth.blogspot.com/2012/04/elephant-and-piggie-party.html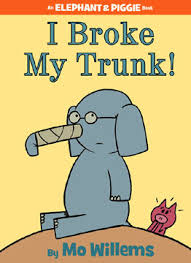 I Broke My Trunk Noisemakers: Make these paper characters using store-bought party noisemakers: https://thriveafterthree.com/2014/01/27/i-broke-my-trunk/    
Games: 
A Big Guy Took My Ball Game: To bring focus to the Geisel Honor title A Big Guy Took My Ball! (Hyperion, 2013), make a simple ball toss game.  Take empty two-liter soda bottles and fill with approx. one inch of sand. Place these on a table, and give players three tennis balls and see if they can knock down the bottles. For added fun, decorate the bottles with cutouts of Willems' characters.
Feed the Duckling or Pigeon: Make two poster-sized pictures of the Duckling and Pigeon characters and mount on heavy cardboard. Cut out a circle on each poster, and have players toss three ping pong balls at the targets. Give a prize if they can land one ball through the hole, and a consolation prize if they miss all three balls.  https://storytiming.com/2012/04/03/dont-let-the-pigeon-run-this-party/
Don't Let the Pigeon Drive the Bus Game: Using small Matchbox cars and buses, have some fun races.  
Goldilocks and the Three Dinosaurs Game: Bury several small plastic dinosaurs in sand. Let players sift out a dinosaur using a kitchen strainer; they can keep the first dinosaur they pick up as a prize.
There is a Bird on My Head! Game: Line up children who are near the same age, and play this game in groups. Each child has a small strawberry basket on his head containing an egg; they walk from one side of the yard area to the other balancing the egg on top of their heads (no hands!). They go back and forth until only one player still has the egg (in the basket), on his or her head and is declared the winner!

Penny Peck,  San Jose State University iSchool