Another popular topic for a storytime for older preschoolers, kindergartners, and first graders, is the concept of telling time. There are several good picture books, along with poems and songs. A simple practice clock can be made with a paper plate. The children number the plate, matching the numbers to a working clock you have on hand. Paper clock hands can be attached with a brad or brass fastener, and the students can move the hands to simulate certain times of day.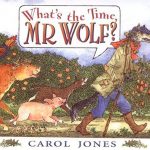 Harper, Dan. TELLING TIME WITH BIG MAMA CAT.    The built-in clock is handy, but the strong, funny story and illustrations are what make this book a sure hit.
Jones, Carol. WHAT'S THE TIME, MR. WOLF?    Another funny story, involving a wolf who invites one farm animal after another for "dinner" while watching the clock to see when "dinner" will be ready.
Behrman, Carol. THE DING DONG CLOCK.    The grandfather clock watches over everyone and everything in the house.
Thompson, Carol. AROUND THE DAY: RHYME TIME.    Choose just a few of the many poems in this delightful collection.
Appelt, Kathi. BATS AROUND THE CLOCK.    Click Dark and American Batstand hold a 12-hour dance marathon.
Langden, Annette. FELIX, WHAT TIME IS IT?
A stuffed animal rabbit learns to tell time with the book's built-in clockface.
George, Jean Craighead. MORNING, NOON, AND NIGHT.    This story doesn't talk about using a clock, but describes how the earth's rotation causes the different times of day, like those mentioned in the title.
Aylesworth, Jim. THE COMPLETED HICKORY, DICKORY DOCK.    The Mother Goose rhyme inspired this take-off involving the mice who are around every time the clock strikes.