Pop-up and Flap Books – what's new in Pop-up books?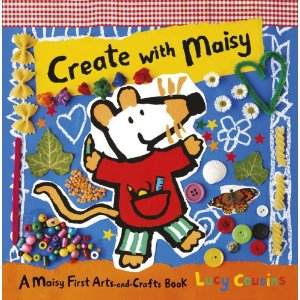 Cousins, Lucy. Maisy's World of Animals. Candlewick, 2014. $14.99. ISBN 978-0-7636-6989-8.
In this clever look at habitats, white mouse Maisy begins her exploration at the Arctic, seeing polar bears. Next, she is in the mountains, then the desert, and then the savanna. Her final destinations are the ocean, jungle, and Antarctic. At each, she sees various animals that live in the region, and the left sidebar on each page features four animals. This fun story will also build vocabulary, and will start discussions of habitats. The pop-up features work quite well, showing penguins flapping their wings, a monkey swinging on a vine, and other motions natural to the animal that does it. The deeply saturated full-color illustrations and one hand-lettered sentence per page are perfect for the toddler and preschool audience. A sure-fire storytime winner.
Williams, Rachel. Little Pear Tree. Illus. by Jenny Bowers. Big Picture Press,
2014. $14.99. ISBN 978-0-7636-7126-6.
The seasons are explored through the life cycle of a pear tree, in a board book for older children. Six spreads containing 25 small sturdy flaps show flowers, leaves, and other flora that share the garden with a pear tree. Lift the flap and the reader will see something, such as an insect, next to the word for that item. The rhyming text has a sing-song quality but serves its purpose. The digitally created illustrations resemble cut paper collage with paint, and do a nice job of depicting the static garden setting. There are better seasons books but this will be useful.
Van Fleet, Matthew. Munch! S&S, 2013. $9.99. ISBN 978-1-4424-9425-1.
Tactile elements imbedded into the pages, as well as a few sliding pull-tabs that animate an animal's mouth make for a one-note look at eating. The reader sees various animals eating, with a few where the animal's mouth is opened by a pull tab, but there isn't much of a story. The ink and watercolor cartoonish illustrations are well done in this small board book, but this is not memorable.
Nye, Mairead. Where's My Football? Bristlecone, 2013. $9.99. ISBN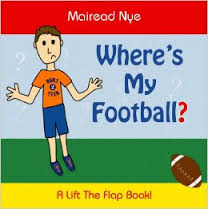 978-0-9855111-0-4.
In this brief board book with six small flaps, a boy loses his football and looks under his bed, in the closet, etc. The story is relatively uneventful, but it is the illustrations that keep it from being a good library purchase. The artwork was likely intended to be child-like, but it actually just looks amateurish. The saturated colors are good but the drawing is weak, and it appears that many elements were done with a computer.
Pittau, Francisco. The Open Ocean. Illus. by Gervais. Chronicle Books, 2014. $24.99. ISBN 978-1-4521-2701-9.
Originally published in France in 2012, this oversized book (16 inches tall) is probably too delicate for library use, but would make a great gift book. Black silhouettes on large white flaps lift to show an illustration of an ocean animal, along with a paragraph of information. Eight of the flaps offer a pop-up of the animal; this is in the middle two pages, and is very realistic. Although animals of different sizes appear next to each other, they are not shown to scale so that could be a little confusing. The final spread features vertically cut panels that the reader can lift to try to match up pieces of a fish, almost like a puzzle. Best for classroom use, or an aquarium gift shop. The previous books from this author include Out of Sight (2010), and Birds of a Feather (2012), and all three books will appeal to readers of all ages – adults included! 
Penny Peck, San Jose State University, School of Library and Information Science