Out of the Ordinary: This new monthly column will highlight special reissues, unusual publishing projects, and other children's books that are of special interest.
Eric Carle and Friends. What's Your Favorite Animal? Holt, 2014. $17.99. ISBN 978-0-8050-9641-5.
Written as a fund-raising project for The Eric Carle Museum of Picture Book Art, 14 author/illustrators have each contributed a double-page spread with an illustration and brief text on his or her favorite animal. All royalties from the book will go to the museum. Although this was compiled for children to read, librarians will also find this an interesting look at some of their favorite picture book author/illustrators.
The spreads vary in book design; most contain a single large illustration, others are done like comic book panel artwork or spot art with captions. For example, Rosemary Wells' entry on her favorite dog consists of colored pencil drawings done in panels. Nick Bruel and his popular Bad Kitty character describe his favorite, an octopus, also in panels. But most of the entries consist of a large painting or drawing, paired with a short paragraph on why the person appreciates that particular animal.
Peter Sis describes eating a carp every Christmas Eve, so a Blue Carp is his favorite. Often the chosen animal was a pet, including Carle's cat, Peter McCarty's bunny, and Susan Jeffers' horse.
Since this doesn't really contain a story, it doesn't work for storytime. The CIP has it cataloged in 746, alongside books on children's book illustrators, but it may be lost there. Using it to inspire a display of books by the featured illustrators may help this book find its audience. The final two pages feature small childhood photos and one-paragraph biographies of the artists that were selected for this worthy cause.
Kelly, David A. The San Francisco Splash. Random House, 2013. $4.99 (paper). ISBN
978-0-307-97779-3.
Cousins Mike and Kate are in San Francisco at the Giants-Dodger game because Kate's father is a scout for the Dodgers. They help an old Giant's player search for his missing World Series ring (from 1954), in a light mystery story that is fun and not overly predictable.
The seventh entry in the "Ballpark Mysteries" series of transitional fiction for 3rd and 4th graders, this is set in San Francisco. Although the stadium is not named, other areas such as McCovey Cove are mentioned, and aspects of the ball park are described, including the iconic Coca Cola bottle slide and the giant baseball glove in the bleachers. Even the stadium's famous garlic fries get a shout out!
Parts of the story involve notable San Francisco landmarks, include the cable cars, Fisherman's Wharf, and Alcatraz. Most references to the city ring true, except I would call the bay more blue than green. The book concludes with "Dugout Notes" on the Giants, the ballpark, and San Francisco. Because of the local connection, this would be a great recommendation for summer reading, so purchase several copies.
Pilkey, Dav. "Ricky Ricotta's Mighty Robot" series. Illus. by Dan Santat. Scholastic, 2014 editions, $15.99 each:
Ricky Ricotta's Mighty Robot. ISBN 978-0-545-63106-8.
Ricky Ricotta's Mighty Robot vs. the Mutant Mosquitoes from Mercury. 978-0-545-63108-2.
Ricky Ricotta's Might Robot vs. the Voodoo Vultures from Venus. 978-0-545-63111-2.
Ricky Ricotta's Mighty Robot vs. the Mecha-Monkeys from Mars. 978-0-545-63115-0.
Never as popular as Pilkey's other series of transitional fiction, "Captain Underpants," the "Ricky Ricotta" books have been reissued with all-new full color illustrations. The original format had ink cartoons by Martin Ontiveros, and resembled the Captain Underpants' book design. These new editions, with full color artwork that looks airbrushed, strongly resemble contemporary graphic novel artwork. In fact, with the red and silver robot design, Ricky's robot bears a slight resemblance to Iron Man.
Dan Santat did the new artwork; he is probably best known to children's librarians for his tween graphic novel Sidekicks (Scholastic, 2011). The full color illustrations are sure to attract new readers to this underappreciated series.
The format includes both text pages as well as paneled cartoon artwork, with a few dialogue balloons. This makes for a nice segue for the beginning chapter book reader, moving up from picture books and easy readers. The books also feature Pilkey's popular "Flip-O-Rama" pages of action, giving the fights the fun dynamic of old-fashioned flip books.
Ricky is a mouse who gets a robot for a pet. The robot was created by Dr. Stinky McNasty to do evil and take over the town, but Ricky brings out the best in the robot. Together they overcome both school bullies and a Godzilla-like monster and electro-rockets. The two friends meet new foes and challenges in each book.
Comparing one of the new books to the previous (the fourth book in the series), it appears that the text is similar; some words were changed here and there but basically the text is the same as before. The illustrations have changed quite a bit, however; as mentioned above, these are much more visually sophisticated and slicker. Also, when I tried to check out the earlier editions from the county library, they were all checked out, proving even the old editions are popular! So these new editions are certainly worth purchasing.
"The Magic School Bus Presents" Series. Scholastic, 2014. $6.99 each (paperback).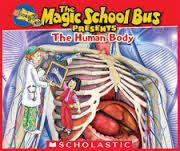 The Human Body. ISBN 978-0-545-68364-7.
Our Solar System. 978-0-545-68365-4.
Planet Earth. 978-0-545-68012-7.
Sea Creatures. 978-0-545-68366-1.
Wild Weather. 978-0-545-68367-8.
These adaptations are labeled "A Nonfiction Companion to the Original Magic School Bus Series." Many libraries classified the originals in nonfiction, because even though there were some fictional characters and story elements, the bulk of those books were factual. Conjecture says that these new informational books with color photos and few story elements are being issued to meet Common Core standards. There are no authors listed on the title pages, only on the verso, where authors are mentioned in fine print, along with the note that these are based on the series by Joanna Cole and Bruce Degen.
The texts are more straightforwardly factual than the originals; for example, this reviewer compared the new book on the human body with The Magic School Bus Inside the Human Body (1989), where the shrunken school bus is eaten by Arnold who thinks it is a Cheez Puff. The text of the older book is longer, but the new version contains quite a bit of the same factual material. It also has the sidebars that look like yellow binder paper, with hand-written lists of facts. In a way, the new versions are more traditionally "nonfiction," yet a quicker read but with fewer jokes.
The illustrative matter and book design of these new versions is quite attractive; color photos are paired with spot cartoon artwork done by Carolyn Bracken in the style of Bruce Degen, along with sidebars. Most of the cartoons are characters from the original – Ms. Frizzle and the students, with dialogue balloons giving brief facts. Primary graders will find this approach eye-grabbing, and they are likely to read the entire texts.
These new Magic School Bus books are only available in paperback and e-book editions; could they be aiming for the classroom market and not libraries? That would be a shame as libraries would welcome these engaging and visually attractive books; fortunately they are available from Bound to Stay Bound.
These new versions are likely to be even more popular once the new TV series debuts; it is a "reboot" of the original animated series based on the first books. Netflix is producing and will distribute the reboots, doing 26 new episodes done with computer animation: http://insidetv.ew.com/2014/06/11/magic-school-bus-netflix-reboot/ .
Penny Peck, San Jose State University School of Library and Information Science