By Mahasin Abuwi Aleem
The Children's Room at the Oakland Public Library was honored to receive an ACL mini-grant to support a new program, Family STEAM Night, which was created to attract "tweens" and their families. Family STEAM Night focuses on the exploration of Science, Technology, Engineering, Arts, and Math (STEAM) activities. Family STEAM Night also received funding from the Friends of the Oakland Public Library (FOPL).
Public libraries, including our wonderful Oakland Public Library, tend to have an abundance of programming designed for young children (ages 5 and under), teens, and adults, while youth in the stage between late childhood and adolescence (ages 8-12) have less programming targeted to them. Wanting to provide equitable programming for all the youth in our community, we designed a program that would cultivate their interests, meet their needs, and encourage healthy relationships with their families. The grant from ACL allowed us to create "innovation kits" for attendees at each night. Innovation kits included items for additional exploration and education at home.
The first Family STEAM Night was held on Tuesday, March 27, 2019. The activity was led by an engineer from Play-Well Teknologies, an organization whose engineers lead children in building exercises with LEGO bricks. FOPL grant funds allowed us to pay their staff to facilitate the workshop. Attendees learned about the basics of engineering and had lots of fun creating motorized Lego creations that could battle! The Lego themed STEAM night fell during Spring Break for local Oakland Unified School District (OUSD) schools and several Oakland-based charter schools. It was very heart-warming to hear from several of the parents in attendance that the program gave them the chance to offer their kids a fun experience during the break from school: an opportunity they wouldn't otherwise have, due to the prohibitive cost of travel and local day camps. The ACL-sponsored innovation kit for the Play-Well event included a small motor and Lego pieces. A highlight was when the parent of an attendee returned a few days later to show us a video of a motorized Lego creation they had made at home.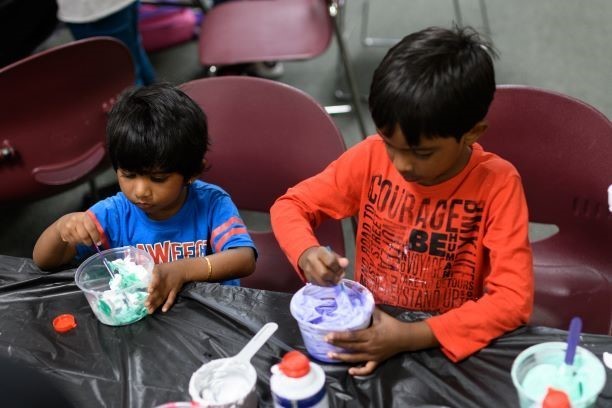 The second Family STEAM Night event, "Slime-O'Rama: Where slime making, the scientific method, and entrepreneurship meet!" was held on Wednesday, May 28, 2019. During Slime-O'Rama, participants used the scientific method to explore making three different types of slime: clear, fluffy, and edible slime. It was a big hit! Several participants came with friends and made stacks and stacks of slime to take home with them. This event's innovation kit included edible slime making materials.
The final Family STEAM Night series event, "Exploring with 3D Pens," was held on September 18. Participants used 3D pens to create art and explore 3D technology. The 3D innovation kits included wax sticks for making additional 3D creations, and for several attendees, actual 3Dpens, which were raffled off as door prizes. The ACL grant also allowed us to purchase a set of 3D pens for ongoing Children's Room STEAM programs.
Each event has been well-attended; the demand for the program requires that we create a waitlist for each program. Each night has served 20-25 children and their families, with a total of approximately 160 attendees for the three events in the series.
Thank you to ACL for the mini-grant! It has made a difference for families in Oakland!