Walter Dean Myers Award Announced: The We Need Diverse Books(TM) Walter Award Judges Committee has confirmed selections for the inaugural Walter Dean Myers Award for Outstanding Children's Literature – Young Adult Category. One winner and two honors have been named.
The Walter Dean Myers Award, also known as "The Walter," is named for prolific children's and young adult author Walter Dean Myers (1937 – 2014). Myers was a National Ambassador for Young People's Literature as well as a champion of diversity in children's and YA books.
The winner of the first annual Walter award (2016) is the young adult novel All American Boys by Jason Reynolds and Brendan Kiely. The judges also selected two Walter honor books: Enchanted Air: Two Cultures, Two Wings by Margarita Engle and X: A Novel by Ilyasah Shabazz and Kekla Magoon.
The Judges Panel reviewed titles published during the 2015 calendar year by diverse authors whose work featured a diverse main character or addressed diversity in a meaningful way. In the case of author pairs (or author-illustrator pairs), at least one member of the pair must be from an underrepresented community. The books covered many genres and included both fiction and nonfiction works. The award's mission is to honor the memory of Walter Dean Myers and his literary heritage, as well as celebrate diversity in teen literature.
We Need Diverse Books(TM) is a 501(c)(3) organization established in 2014 to address the lack of diverse representation in the children's publishing industry. The Walter Dean Myers Award is one of many initiatives funded or supported by WNDB(TM). http://weneeddiversebooks.org/
Notable Books for a Global Society: The Children's Literature and Reading Special Interest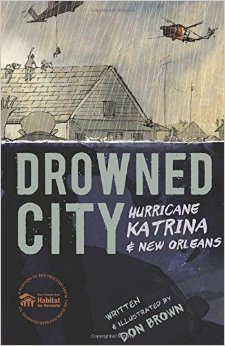 Group of the International Literacy Association is pleased to announce the 2016 Notable Books for a Global Society.  The list includes picture books such as Juna's Jar by Jane Bahk, tween novels including Stella by Starlight by Sharon Draper and Orbiting Jupiter by Gary D. Schmidt, and nonfiction books including Drowned City: Hurricane Katrina and New Orleans by Don Brown and Sitting Bull: Lakota Warrior and Defender of his People by S.D. Nelson. Please visit http://www.clrsig.org/nbgs_books.php for a printable list of winners and additional information.