Imagination – Revised
Using one's imagination is a fun concept often exhibited in picture book stories. A prime example is Crockett Johnson's Harold and the Purple Crayon. For a craft project, allow children to make anything they want out of toilet paper tubes, scrap paper, and other art supplies. One example: Snowman Toilet Paper Roll Craft -Imaginations Running Wild-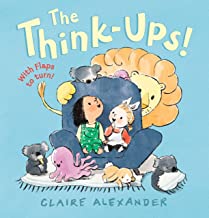 Alexander, Claire. The Think-Ups. Kiki plays a game using her imagination when stuck indoors.
Appert, Anne. Blob. Bob the blog imagines he is various things.
Bolling, Valerie. Ride, Roll, Run: Time for Fun! Diverse children play in this rhyming story.
Dean, Kim. Pete the Cat's Groovy Imagination. Pete uses a box and his imagination to play on a rainy day.
De La Pena, Matt. Milo Imagines the World. Milo draws what he imagines when riding on the subway.
Guzman, D. Milo + Niko. Milo plays with an imaginary tiger.
Johnson, Crockett. Harold and the Purple Crayon. A little boy draws with a crayon and imagines amazing things.
Miller, Tim. Izzy Paints. Izzy the koala paints after visiting the art museum.
Skomsvold, Kjersti. Bedtime for Bo. Bo imagines he is different animals while his mom tries to get him to go to sleep.
Zimmerman, Andrea G. If I Were a Tree. Siblings imagine what it would be like to be a tree.
To see our earlier Imagination storytime plan, go to: Imagination Storytime Ideas (bayviews.org)
Penny Peck, San Jose State University iSchool