Each month we post an annotated bibliography of books that were rated 'Outstanding' and nominated for our Distinguished List at our previous month's meeting. Members can see full reviews of these books and many more in the May edition of BayViews. Not a member? Join, come to our monthly meetings, and hear about these Outstanding books in person!
PICTURE BOOKS
Because written by Willems, Mo and illustrated by Ren, Amber; Hyperion, 2019.
A chain of contributions demonstrates the skills and collaboration required to stage an orchestral concert, which inspires a young girl to create her own music. Diversity in ethnicity, gender, and vocation is key in both the text and cartoon illustrations in this well-researched, thoughtful story. (Grades PreK-3.)
A Green Place to Be: The Creation of Central Park written and illustrated by Yazdani, Ashley Benham; Candlewick, 2019.
A well-researched narrative and vibrant watercolor and pencil illustrations tell the story of how Calvert Vaux and Frederick Law Olmstead built Central Park. Diverse characters reflect Vaux and Olmstead's belief that a green space is for everyone, regardless of class or color. (1-5.)
Hands Up! written by McDaniel, Breanna J. and illustrated by Evans, Shane W.; Dial/Penguin Random House, 2019.
A little African-American girl raises her hands while she plays peek-a-boo, and in protest alongside signs like "Black Lives Matter". Many teachers may find this useful, and parents can use it to explain protests and current events. (K-3.)
When Spring Comes to the DMZ written and illustrated by Lee, Uk-Bae; Plough, 2019.
Undeveloped, the DMZ has become an unintentional sanctuary for wildlife, which Grandfather observes and whose freedom to roam serves as a stark contrast to the divided Korean families. Ironic and bittersweet, this beautifully illustrated book is unique in its subject matter and delivery. (K-7.)
EARLY READERS
Harriet Tubman: Freedom Fighter written by Hohn, Nadia L. and illustrated by Mazali, Gustavo; HarperCollins, 2019.
Beginning readers will learn about the lesser known contributions of Harriet Tubman in this well-researched biography. Language is honest, direct, and appropriately concise for young readers. Colorful cartoon illustrations convey actions and emotions narrated in the text. (1-2.)

FICTION
The Bridge Home written by Venkatraman, Padma; Nancy Paulsen/Penguin Random House, 2019.
In this heart-wrenching middle grade story about impoverished street kids in India, sisters Viji and Rukku run away from their abusive village home to make their way in a big city. They encounter kindness and threats, eventually making a home and family with two boys on an abandoned bridge. (6-8.)
Dragon Pearl written by Lee, Yoon Ha; Disney/Hyperion, 2019
Thirteen-year-old Min is on a quest to find her brother in this thriller infused with Korean mythology and set in space. The non-stop action may be exhausting, but readers will enjoy following Min as she faces pirates, vengeful ghosts, and evil military officials. (4-8.)
Eventown written by Haydu, Corey Ann; Katherine Tegen/HarperCollins, 2019.
When Elodee's family moves to Eventown, Elodee can't stop questioning the things that make it perfect. Haydu's dystopian society has no evil government to overthrow, only fallible humans trying to navigate difficult and sad situations that are a part of life. Heartbreaking, but also hopeful. (4-6.)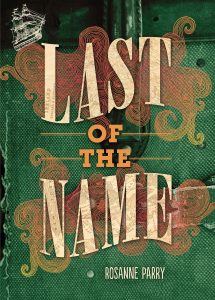 Last of the Name written by Parry, Rosanne; Carolrhoda/Lerner, 2019.
Fleeing violence and starvation in Ireland, 12-year-old Danny O'Carolan and his older sister arrive in New York of 1863, which is simmering on the edge of the draft riots. Desperate for shelter, the siblings manage to find jobs in domestic service, where Danny hides his dancing feet under a dress. (5-9.)
The Lost Girl written by Ursu, Anne; Walden Pond/HarperCollins, 2019.
When twins Iris and Lark are put in separate classes at school, they struggle to navigate independently in this contemporary fantasy. When an underlying message of girls empowering each other, Ursu excels at using magic as a metaphor for social and emotional challenges without being heavy-handed. (3-6.)
Mangoes, Mischief, and Tales of Friendship: Stories from India written by Soundar, Chitra and illustrated by Krishnaswamy, Uma; Candlewick, 2019.
Original trickster tales describe the adventures of the wise young Prince Veera and his best friend, Suku, a commoner, as they occasionally have the privilege of presiding over King Bheema's court. Friendship, thoughtfulness, and kindness prevail. The lack of color in the artwork is disappointing. (3-7.)
We Set the Dark on Fire written by Mejia, Taylor Kay; Katherine Tegen/HarperCollins, 2019.
Set in the nation of Medio whose mythical past informs its complex social structure, we see parallels of today's world in a society where two totally different sets of rules apply to rich and poor, and where heroine Daniela Vargas must hide her origins and find herself. (9-12.)
FOLKLORE
Cinderella Liberator written by Solnit, Rebecca and illustrated by Rackham, Arthur; Haymarket, 2019.
A feminist re-imagining of the fairytale, which alters the narrative to focus on the liberation that comes with helping oneself and those around you. Perhaps best suited for kids who are old enough to be interested in reinterpretations and stories that challenge problematic texts. (6-Adult.)
NONFICTION
Beware of the Crocodile written by Jenkins, Martin and Kitamura, Satoshi; Candlewick, 2019.
The opening scene of a toothy open-mouthed crocodile grabs attention and doesn't let go until the index at the end. The author is a conservation biologist who reveals the "gruesome" facts about crocodiles in a witty and conversational tone that is a pleasure to read aloud. (PreK-3.)
BIOGRAPHY
Dear America: Young Readers' Edition: The Story of an Undocumented Citizen written by Vargas, Jose Antonio; HarperCollins, 2019.
Jose Antonio Vargas shares his story of arriving in the U.S. at age 12, unaware of his own undocumented status. At a time when immigration has become a battlefield, this book is a dispatch from the field, a reminder that we need to find a way of defining human being beyond "legal" and "undocumented." (4-8.)
Elvis Is King! written by Winter, Jonah and illustrated by Red Nose Studio; Schwartz & Wade/Penguin Random House, 2019.
This exemplary picture book biography of Elvis Presley's early life has both a snappy text and stunning illustrations – dramatically lit photos of hand-crafted posable figures made of wire, cloth, and other materials. (2-5.)