Each month we post an annotated bibliography of books that were rated 'Outstanding' and nominated for our Distinguished List at our previous month's meeting.  Members can see full reviews of these books and many more in the March edition of BayViews.  Not a member?  Join, come to our monthly meetings, and hear about these Outstanding books in person!
PICTURE BOOKS
The Digger and the Flower written and illustrated by Kuefler, Joseph; Balzer + Bray, 2018.
Three big trucks – a red crane, a yellow digger, and an orange bulldozer – hoist and dig and push when one of them finds and nourishes a single flower.  With a nod to Virginia Lee Burton's The Little House (1978), the beautiful textured illustrations show a message of environmental stewardship appropriate for very young audiences.  (Grades Preschool-2.)
The Funeral written and illustrated by James, Matt; Groundwood, 2018.
Norma is secretly excited to attend her great-uncle Frank's funeral, where she will see her favorite cousin and play outdoors.  This captivating  take on a child's experience of a distant relative's funeral glows with feeling and joy.  (PreK-2.)
The Manic Panic written by Jha, Richa and illustrated by Ananth, Mithila; Creston, 2018.
The unthinkable has happened – the Internet and Wi-Fi have gone down!  A young girl and her Nana are not troubled by this – they have plenty of ideas that don't involve technology.  However, the girl's parents are devastated – they whine and grumble and fret.  Finally convincing them to go on an outing, the girl's family has a lovely time playing soccer, riding bicycles, and relaxing in the park.  The surprise ending explains why the Wi-Fi is still down after dinner time.  This hilarious and timely story will resonate with all families having access to the Internet, regardless of country or culture.  (K-3.)
FICTION
Bob written by Mass, Wendy and Stead, Rebecca and illustrated by Gannon, Nicholas; Feiwel & Friends, 2018.
Livy doesn't remember much from the last time she visited her Gran, and she certainly doesn't remember Bob, the little green creature dressed in a ridiculous chicken suit who has been waiting for her in the closet all this time.  This charming tale, full of mystery and magic, beautifully captures the experience of growing up and not remembering what came before, even if it seemed so important at the time.  (3-6.)
The Disturbed Girl's Dictionary written by Ramos, MoNiega; Carolrhoda, 2018.
Macy is a "disturbed" bad kid at school with a plethora of family problems, but devoted to her two best friends and kid brother.  This is a heart-wrenching piece of realistic young adult fiction and is not for the feint of heart.  (8-Adult.)
Love Sugar Magic: A Dash of Trouble written by Meriano, Anna; Walden Pond, 2018.
Eleven-year-old Leonora "Leo" Logrono discovers that the women in her family are brujas, or witches.  Eager to test out her own magic without getting caught, Leo experiments with recipes from the family spell book – with unintended consequences.  This sweet tale of testing boundaries and navigating relationships is a strong series debut.  (3-7.)
Race to the Bottom of the Sea written by Eagar, Lindsay; Candlewick, 2017.
After her famed underwater biologist parents die at sea, eleven-year-old Fidelia Quail is kidnapped by an eccentric pirate who forces her to help him retrieve a treasure in a cave under the sea.  An intriguing setting – which seems to exist in its own time and place – and dynamic characters highlight this cinematic adventure.  (4-7.)
GRAPHIC NOVELS
Lighter Than My Shadow written and illustrated by Green, Katie; Lion Forge, 2017.
Katie Green's epic graphic novel memoir captures the author's struggle with eating disorders as a youth and her tumultuous path toward recovery.  Using thin line drawings and neutral colors, Green crafts a mature memoir appropriate for upper high school readers as well as adults.  (10-Adult.)
NONFICTION
Dig In!: 12 Easy Gardening Projects Using Kitchen Scraps written by Cornell, Kari and illustrated by Larson, Jennifer S.; Millbrook, 2017.
Easy projects with clear instructions using organic ingredients from food from the supermarket, recipes, color photographs, and making seedling pots out of newspaper enable kids to plant a garden without fuss at very little expense.  Using kitchen scraps such as romaine lettuce stubs; celery stubs; green onions and leeks from root ends; lemon grass from the stalk; herbs from cuttings; pineapple from its top; garlic from a clove; ginger from the rhizome; sweet potatoes from a whole potato; peppers, pumpkins, and lemon trees from saved seeds are all described.  (4-8.)
Meet My Family!: Animal Babies and Their Families written by Salas, Laura Purdie and illustrated by Coleman, Stephanie Fizer; Millbrook, 2018.
Twenty two animals talk about a specific part of how they are raised by their families.  The easy-to-read and informative text, as well as warm and friendly illustrations convey the theme of loving families of all types and the diversity of the natural world.  (K-3.)
BIOGRAPHY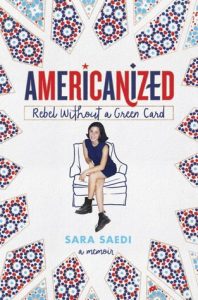 Americanized: Rebel Without a Green Card written by Saedi, Sara; Borzoi/Knopf/Penguin Random House, 2018.
Sara Saedi's breezy YA memoir about growing up Iranian American in Northern California in the 1990s warmly describes typical teen girl concerns as well as the struggles her parents go through to secure legal status having fled from Iran during the 1979 revolution.  (7-12.)