Each month we post an annotated bibliography of books that were rated 'Outstanding' and nominated for our Distinguished List at our previous month's meeting.  Members can see full reviews of these books and many more in the July edition of BayViews.  Not a member?  Join, come to our (currently virtual) monthly meetings, and hear about these Outstanding books "in person"!
Picture Books
Don't Worry, Little Crab written and illustrated by Haughton, Chris; Candlewick, 2020.
Little Crab and Very Big Crab venture from the tide pool to the ocean in this charming story, filled with onomatopoeia. Little Crab overcomes his fear of the ocean waves and enjoys seeing what is under the water. (Grades PreK-2.)
From Maybe to Forever: An Adoption Story! written by Gold, M.L. and Fong, N.V., and illustrated by Hong, Jess; Creston, 2020.
"I have been waiting for a long time to be a big sister," says the bubbly girl who describes the adoption process. Engaging illustrations show splendid diversity of families of all skin colors, including gay couples and a single parent family. An excellent choice to read aloud. (PreK-2.)
Fiction
The Ballad of Songbirds and Snakes written by Collins, Suzanne; Scholastic, 2020.
While not entirely new or inventive, this Hunger Games prequel detailing the origins of the games and the devious villain President Snow will be sure to delight fans of the original trilogy. (7-12.)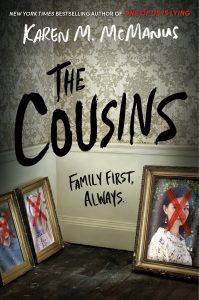 The Cousins written by McManus, Karen M.; Delacorte/Random House, 2020.
Right from the start, secrets are exposed, twists are turned, and danger lurks in this riveting and fast-moving YA mystery in which three 17-year-old cousins try to uncover the mystery behind their parents' disinheritance twenty four years ago. (8-12.)
Dress Coded written by Firestone, Carrie; G.P. Putnam's Sons/Penguin Random House, 2020.
Molly Frost is motivated to political action by the uneven application of Fisher Middle School's dress code. Although the plot easily could have become drama driven, Firestone has produced a sophisticated and timely read sure to find an audience. (6-8.)
The Enigma Game written by Wein, Elizabeth; Little, Brown/Hachette, 2020.
The dramatic and intense YA historical novel is set in the early days of World War II and is back in the Code Name Verity universe. Four well-rounded and diverse characters are able to make a difference when a German pilot secretly delivers an Enigma decoding machine. (8-12.)
Mañanaland written by Ryan, Pam Muñoz; Scholastic, 2020.
When Latinx Max Córdoba offers to help a young girl escape a terrible situation in her country, he comes to understand his family's connection to the fabled "Guardians of the Hidden Ones", and the difficult choices his mother had to make when she left him in his Papá's care shortly after his birth. (3-7.)
The Paper Daughters of Chinatown written by Moore, Heather B.; Shadow Mountain, 2020.
Donaldina Cameron and the Occidental Mission Home for Girls was a sanctuary for Chinese girls who often were brought to California as part of a human trafficking effort. The story alternates between chapters on Cameron and a composite character Mei Lien who escapes a brothel. (9-Adult.)
Watch Over Me written by LaCour, Nina; Dutton/Penguin Random House, 2020.
LaCour's exquisitely lovely magical realist novel has themes of guilt, grief, and the comfort of family. Mila moves to a farm where Terry and Julia provide a home and refuge for children and young adults, but she soon finds that she cannot leave her past behind as reminders of it haunt her. (8-12.)
Nonfiction
Bones: An Inside Look at the Animal Kingdom written by Howard, Jules and illustrated by Fryer, Chervelle; Big Picture/Candlewick, 2020.
This guide to bones focuses on evolutionary adaptations that help animals dig, grasp, and more. A scientific introduction to bones is followed by profiles of animals that exemplify the adaptation. The illustrations are full of life – nothing is static, and every animal featured has personality. (2-5.)
How to Be a Person: 65 Hugely Useful, Super-Important Skills to Learn Before You're Grown Up written by Newman, Catherine and illustrated by Fong, Debbie; Storey, 2020.
In the wryly funny and kind voice of a much older sister or favorite aunt, Newman explains how to do all sorts of useful things, from contacting your political representatives to plunging a clogged toilet. The attractive design and humor make this handbook a fun and confidence-boosting resource. (3-6.)
Stamped: Racism, Antiracism, and You written by Reynolds, Jason and Kendi, Ibram X.; Little, Brown/Hachette, 2020.
A YA adaptation of Ibrahim X. Kendi's Stamped from the Beginning, this book examines how racist ideas began and unfortunately thrive through the present day. Reynold's conversational tone makes a tough topic accessible and easy to understand for younger readers. (5-Adult.)