Nonfiction Pop-up, Toy, and Flap Books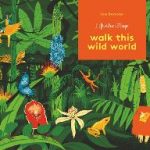 Baker, Kate. Walk This Wild World. Candlewick, 05/2018.  [24p.] $18.99, 978-0-7636-9899-7.  Grades K-5.      Beginning in the Arctic tundra, this celebration of the world's habitats features a brief four-line rhyme on each spread, along with several small flaps that open to reveal a sentence or two on an animal that lives in that habitat. Biomes include the Sonoran desert, Amazon rainforest, Serengeti plains, Congo jungle, Spanish wetlands, Scottish Hebrides, Russian steppe, Himalayan mountains, a swamp in Borneo, and Australian desert. The final spread shows a world map (including Antarctica), showing each location that was covered. The full color artwork has a nice graphic quality, that makes this for a wide age range. 
Dorion, Christiane. How Plants and Trees Work: A Hands-on Guide to the Natural World. Illus. by Beverly Young. Templar/Candlewick, 09/2017. [18p.] $19.99, 978-0-
7636-9298-8.  Grades 3-6.      Great for those researching botany, seeds, or flowers, this is a fun introduction to the subject, including a brief description of photosynthesis. The main focus is on fun facts, from poisonous plants, to where plants grow, "weird" plants, and how humans use plants.      Each spread looks at one main subject, with lots of small paragraphs, and one or two interactive features such as wheels, popups, flaps, and small booklets. Generally, these are relatively sturdy and could hold up to library circulation. The artwork is done in acrylics, depicting items realistically, and set on colorful backgrounds. Much of the text is question and answer, or brief facts, so even reluctant readers will be engaged. 
Graham, Ian. Trains. Illus. by Stephen Biesty. Templar/Candlewick, 10/2017. [16p.] $15.99, 978-0-7636-9647-4.  Grades K-5.    Similar in format to Biesty's earlier vehicle books Giant Vehicles and Emergency Vehicles, (both written by Rod Green), this celebration of trains contains board pages and sturdy flaps that will suit library usage. Each spread focuses on a specific type of train, beginning with three steam trains, then diesel, then electric, then trains of the future.      The text is made up of an introductory paragraph on each spread, then small captions labeling the various parts of each train, The flaps reveal interiors of each train, along with another paragraph describing what is being shown in the cross-section. There is quite a bit of information on machinery and how trains work; aficionados can delve into the details while younger children can enjoy the ink and colored pencil artwork and diagrams. 
Krasinski, Geraldine. Space (All About series). Illus. by Tiago Americo. Twirl, 06/2018. [18p.] $14.99, 978-2-74599-550-6. Grades 1-5.      As the cover states: "25 flaps, pull-
tabs, and more!" are the highlight of this nonfiction book on astronauts and space travel (not on planets or the universe). The full color cartoonish artwork, short sentences, and interactive features will attract reluctant readers. The characters reflect both males and females of different ethnicities as they train and work on the ground and in space. A nice introduction to the subject, this may hold up to library circulation since nonfiction books tend to appeal to slightly older children who might care for the book. Also, the flaps and other moveable parts are small.
Martin, Reed C., and Austin Tichenor. Pop-up Shakespeare. Illus. by Jennie Maizels. Candlewick, 10/2017. [10p.] $19.99, 978-0-7636-9874-4. Grades 4-8.      Classrooms that study Shakespeare are the best place for this engaging look at the work of Shakespeare, because it contains large pop-ups that won't withstand the rigors of library circulation. But for those students who read it, they will find it a fun experience!     The book begins with a spread on Shakespeare's life and where he lived and worked, with sturdy flaps to reveal some of the few facts known about him. The other spreads celebrate his works, from his Comedies, to Histories, to Romances, and finally the Tragedies. Each spread has at least a paragraph on each play in that category, giving a reader a nice overview of his work. Written by actors from the comedy troupe The Reduced Shakespeare Company, the narrative has a jaunty, humorous tone.     The book design is appealing, with color cartoon-like artwork done using watercolor and thin ink outlines. The large pop-ups include castles, ships, battlefields, and forests, all depicting locations from the plays. There are small boxes of information, and many flaps that lift to reveal more facts, so most casual browsers will feel motivated to read much of the text. A great way of showing how much fun Shakespeare can be.  
Penny Peck, San Jose State University iSchool