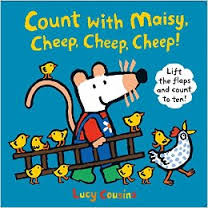 Cousins, Lucy. Count with Maisy, Cheep! Cheep! Cheep! Candlewick, 2015. [28p.]. $15.99. 978-0-7636-7643-8.
Maisy the little white mouse works on the farm in this simple but effective counting story. While Maisy looks for the ten little chicks, children can guess the other farm animals shown behind the various flaps. These flaps are shown as gates, tractor doors, trees, patches of vegetables, and other logical farmyard items. The color cartoon illustrations on white backgrounds will make it easy for toddlers to find and name the animals and to count the chicks.
There are several key elements that make this a success. Each number is depicted by the numeral in a distinctive color, so it is easy to separate from the text in black. Also, the numerals are repeated every time Maisy finds a new chick to add to the group. There is also the "cluck" and "cheep" of the chickens, which listeners can repeat, making this an engaging read-aloud. The text reinforces learning with repetition and elements that listeners can successfully predict.
The flaps are relatively secure, similar in format to Eric Hill's "Spot" series, so this should hold up to library circulation. Some larger libraries may wish to purchase copies just to use at storytime, since farm animals are a popular theme.
Iriyama, Satoshi. Good Night, Chirp! HMH, 2004/2015. [32p.]. $8.99.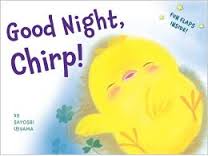 978-0-544-35994-9.
Iriyama, Satoshi. Happy Spring, Chirp! HMH, 2005/2015. [28p.]. $8.99. 978-0-544-36150-8.
From the outside, these two small volumes could be mistaken for board books, but on closer examination these are books with flap pages and a few small pop-up elements. These are sturdy, and should hold up to library circulation, and are likely to be popular. Originally published in Japan, these were skillfully translated, with a brief text that includes some repetition to engage the audience.
Each book stars a small yellow chick named Chirp. The color illustrations on white backgrounds have an airbrushed, or soft-focus appearance that resemble greeting card artwork, and suit the stories. In both stories, Chirp is assisted by other animals in finding what he is searching for, and to find his way home.
The various animals shown include both farm animals and forest animals, including a bear cub who helps Chirp find a gift for Auntie Duck. Both stories are sweet and peaceful, with just a small amount of tension, making these appropriate for those under age two. Although small in size, these could work for a baby storytime if the group is not too big.
Sheehy, Shawn. Welcome to the Neighborwood. Candlewick, 2015. [16p.]. $29.99. 978-0-7636-6594-4.
Seven animal builders are celebrated in this elaborate pop-up book that can be used as an informational resource in units on nature and the environment, especially the "wood" of the title. The lovely full-color illustrations are constructed out of cut paper collages, using handmade papers.
Each spread features a large pop-up animal and the item it builds, including nests, webs, hives, and dams. The final spread shows all seven of the animals, which are all members of the forest or "woods" biome. The seven are land snail, hummingbird, garden spider, honeybee, potter wasp, beaver, and stickleback (fish). Each page has a brief sentence describing the animal's actual size; for example, the hummingbird is as long as a crayon, or the spider is about the size of a paperclip.
There is just one paragraph per page, but overall, the book will lead readers to search for more information on those animals. Although the book is useful, it is unlikely that these dramatic pop-ups will stand up to library circulation. This book is better suited to use in a classroom, or for noncirculating collections.
Penny Peck,  SJSU iSchool