New Books with Flaps or Other Interactive Features 
Arrhenius, Ingela P. Where's the Bear? Nosy Crow, 2018.  [10p.] $8.99. 978-1-5362-0251-9. Arrhenius, Ingela P. Where's the Penguin? Nosy Crow, 2018.  [10p.] $8.99. 978-1-5362-0250-2.
Like the previous books Where's the Ladybug?, Where's the Giraffe?, and Where's the Zebra?, this contains five spreads. Each asks "Where's the seal?" or other animal, and the reader lifts a cloth felt piece to reveal that animal. The graphic-style bold artwork is engaging and toddlers will be able to easily lift the felt flap and guess the animals., but overall there is not much here. The final spread contains a mylar insert so the child can find himself in the "mirror."
Davies, Benji. Bizzy Bear Ambulance Rescue. Nosy Crow, 2018.  [8p.] $7.99. 978-1-5362-0256-4.    
Similar to previous books in the series, the title character is shown as an EMT saving others with his ambulance. The chanting text repeats Bizzy Bear's name in simple couplets, which will engage readers. The sturdy board sliding pages add action and will hold up to library use. A nice addition to the "community helpers" concept that is popular with preschoolers. 
New Bilingual Board Books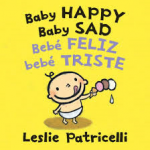 Patricelli, Leslie. Baby Baby Happy Baby Sad/Bebe' Feliz Bebe' Triste. Candlewick, 2018.  [24p.] $6.99. 978-1-5362-0348-6. Patricelli, Leslie. No No Yes Yes/No No Si' Si'. Candlewick, 2018.  [24p.] $6.99. 978-1-5362-0349-3.
In these dual-language editions of the popular board books, the baby demonstrates opposites. In No No Yes Yes, right and wrong behavior is the focus. For example, baby draws on the wall, then is shown drawing on a piece of paper. Baby Happy Baby Sad shows baby is unhappy when a friend takes a toy, and happy when they share. In both, the simple repetitive text of the title invites participation, and Patricelli's signature cartoon art in bold colors is always a standout. Highly recommended for communities with Spanish speakers.
New Adaptations of Picture Books
Cousins, Lucy. Hooray for Birds. Candlewick, 2017/2018. [32p.] $8.99. 978-1-5362-0156-7.  
Various birds are shown and described in this rhyming book for toddlers; for example, a flamingo is pictured along with the text "Stand very tall on just one leg." This celebration of birds features Cousins' signature deeply saturated full color artwork which work well in the board book size, but something is missing. The text doesn't always identify which bird is celebrated. In the quote above, the word flamingo isn't included, and it is missing in the passage on swan, owl, peacock, parrot, and others. A missed opportunity.
Koehler, Lora. The Little Snowplow. Illus. by Jake Parker. Candlewick, 2015/2018.  [30p.] $8.99. 978-1-5362-0340-0.
From The Little Engine That Could to Disney's Cars, children love vehicles with fun facial characteristics and expressions, and The Little Snowplow is no different. The new, small snowplow is teased by the other large trucks until a storm hits and dump truck needs to be rescued; is the little snowplow up to the job?  The text is a little long for the board book crowd, and the colored pencil artwork a little detailed, so the picture book version is the preferred edition. But this would work for one on one sharing, especially for towns that regularly see snow in winter.
Parenteau, Shirley. Bears in a Band. Illus. by David Walker. Candlewick, 2016/2018. [30p.] $6.99. 978-1-5362-0336-3.  
The fifth title in the series works just as well in the board edition, since the setting is the teddy bears' bedroom and the rhyming text is brief. Four colorful bears (resembling Care Bears) play various musical instruments, waking up Big Bear. A charming story that would work well in a baby storytime about music.
Paul, Ann Whitford. If Animals Said I Love You. Illus. by David Walker. FSG, 2017/2018.  [24p.] $7.99. 978-0-374-30603-8.
Companion to If Animals Kissed Goodnight (2014), here various animal parent and child pairs say goodnight with hugs, special sounds, and other methods. The rhyming text works well with the full color cartoonish artwork: "Cheetah would murmur love's soft purr and lick, lick, lick her sister's fur." Nice for caregiver and child at bedtime, but not innovative enough for storytime.
Young, Amy. A Unicorn Named Sparkle. FSG, 2016/2018. [32p.] $7.99. 978-0-374-30872-8.  
     Lucy orders a unicorn and is delivered an animal that looks more like a goat, so she is disappointed but soon grows to love him. The narrative is a little long for a board book, and the charming gouache artwork on white backgrounds is too detailed for this size, so libraries should stick with the picture book version. There are two sequels, so this may be popular, but it does lose something in this smaller version.      
 Penny Peck, San Jose State University iSchool