Board Book Round-up, Part I
It's that time of year again! Time to evaluate new board books for library purchase and use in baby storytimes. Watch for Part II in the May edition of BayNews, where we will discuss board books derived from picture books.
New Individual Titles and Series 
Alcheh, Jamie Kiffel. Can You Hear a Coo Coo? Illus. by Marc Lumer. Kar-Ben, 03/2018. [10p.]. $5.99. 978-1-5124-443-8.     In this brief rhyming story, animals are shown in pairs going up the ramp onto Noah's ark, along with Noah and his family. The humans are depicted with brown skin and black hair, but are not named, so the adult reading this will have to fill in the details. The deeply saturated graphic illustrations and animal sounds will hold the interest of toddlers.
Beardshaw, Rosalind. Walk and See ABC. Nosy Crow, 02/2018. [26p.]. $7.99. 978-0-7636-9623-8.      A white boy and black girl are on a hike in this effective alphabet book: "A is for ants. B is for bee." There are two letters per spread, showing both the upper case and lower case letter, and the items are all things toddler will understand. The full color artwork is almost too sweet but the illustrations tell the hiking story while the text just identifies the things for each letter. A winning alphabet concept book.
Bond, Elaine Miller. Living Wild. Heyday, 2017. [26p.]. $8.99. 978-1-59714-382-0.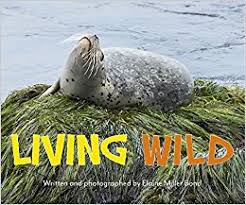 Bond, Elaine Miller. Running Wild. Heyday, 2016. [26p.]. $8.99. 978-1-59714-364-6.      Clear color photos illustrate this series of books celebrating animals in North America. Many of the featured animals are in California, include Monarch butterflies, the California condor, elephant seals, coyotes, and sea lions. The author/photographer Bond lives in the San Francisco Bay Area and is a graduate of UC Berkeley.      Running Wild focuses on animal movement and can help young children learn a variety of verbs, such as swim, prance, pounce, fly, flutter, dash, and prowl. The rhythmic language is engaging with some repetition and rhyme. In Living Wild, the focus is on animal homes, including holes, trees, or the ocean. The text describes how these homes can be a bed of leaves, or a hideaway, island, or place for the animal's family. Both books will appeal to a wide age range, and are perfect for California families.
Cottrell, Jane. My Dog Needs Me. Illus. by Jordan Wray. Flowerpot Press, 2017. [20p.]. $7.99. 978-1-4867-1308-0.      A little boy describes how he cares for his dog in this story that reinforces positive behavior. The text is very simple, with some repetition, and the colorful cartoon-style artwork will appeal to toddlers. Great for storytime as well as for families to share at home. 
Dicmas, Courtney. Wild! Colors. Child's Play, 2017. [12p.]. $4.99. 978-1-84643-996-4. 
Dicmas, Courtney. Wild! Opposites. Child's Play, 2017. [12p.]. $4.99. 978-1-84643-997-1.      Concepts are demonstrated in a charming but simple way in this popular series that uses animals to show the concept. For example, in Opposites, a kitten is short, and a giraffe is tall. Or, an elephant is big and a bird is small; only the word for the concept is used. The full color artwork has energy and shows the animals in a relatively realistic way. For Colors, all of the creatures are ocean animals. Previous books in the "Wild!" series include Bathtime, Bedtime, Mealtime, and Playtime, all from 2014. Fun for parent-child interaction but not quite enough for storytime.
Light, Steve. Black Bird Yellow Sun. Candlewick, 03/2018.  [16p.]. $7.99. 978-0-7636-9067-0.   
   In this very simple concept book for babies, a black bird is shown on every spread, against an item exemplifying a color: "Black Bird Orange Leaves" or "Black Bird Purple Grapes." The items are done using thick paint prints on plain backgrounds; there is a little worm in each spread. Lovely artwork that really teaches the concept of colors. 
Mother Goose. Hickory, Dickory, Dock and Other Favorite Nursery Rhymes. Illus. by Genine Delahaye. Tiger Tales, 2017. [22p.]. $9.99. 978-1-68010-525-4.      Eighteen popular rhymes make up this useful, enjoyable collection; nearly all are well-known. Included are common songs performed at storytimes, including "Old MacDonald," "Teddy Bear, Teddy Bear," and "If You're Happy and You Know It." The pastel tone illustrations feature animals in place of people. A must-have for libraries that offer circulating board books and baby/toddler storytimes. 
Muhle, Jorg. Bathtime for Little Rabbit. Gecko Press, 2017.  [20p.]. $9.99. 978-1-77657-137-6.    
  In this follow up to Tickle My Ears (2016), the same little white rabbit needs help with a bath. The audience is encouraged to touch the pages to wash his hair or blow on the page to dry the bunny. The full color cartoon-like artwork is engaging and the story is just right for babies and toddlers. A winner for both storytime or for parents to read one-on-one.
Newman, Tracy. Tu B'Shevat Is Coming! Illus. by Viviana Garofoli. Kar-Ben, 01/2018. [10p.]. $5.99. 978-1-5124-2676-2.      Adult readers will need to explain this minor Jewish holiday to children because the text doesn't really do that – instead, it repeats the title and indicates it is a celebration of trees. The illustrations hint that this takes place in early Spring, but it actually occurs in late January. This seems best suited to Jewish families and not for general library use. 
Press, Judy. Bubbe's Got the Beat. Illus. by Mary Hall. Kar-Ben, 04/2018. [10p.]. $5.99. 978-1-5124-4763-7.      With four snappy rhyming lines per page, a boy and his grandmother make challah and prepare for the sabbath meal. The full color artwork and the story combine to both inform young children on Jewish customs and food but also have a universal quality, showing an extended family enjoying a special meal. Pair with other books on bread from various cultures, including Bread, Bread, Bread by Ann Morris.
Schwartz, Viviane. Animals with Tiny Cat. Candlewick, 03/2018. [24p.]. $7.99. 978-0-7636-9818-8. 
Schwartz, Viviane. Counting with Tiny Cat. Candlewick, 03/2018. [24p.]. $7.99. 978-0-7636-9821-8.      In this hilarious new series, a cat is seen playing – in Counting, he is juggling red balls, and in Animals, he pretends to be various animals by using household items to add ears, a trunk, etc. The simple text looks like it was done using a typewriter, displaying just a word or two. The artwork really tells the story – the cat is drawn in ink against a stark white background, with one other color but the cartoons have so much energy and life that young children will follow the story without needing to read the text. A must have for all libraries and useful for storytime. 
Spanyol, Jessica. Clive Is a Librarian. Child's Play, 2017. [12p.]. $4.99. 978-1-84643-989-6. 
Spanyol, Jessica. Clive Is a Teacher. Child's Play, 2017. [12p.]. $4.99. 978-1-84643-990-2.      In the seventh and eighth entries of this popular series, Clive is seen at preschool where he role-plays as a librarian and as a teacher. Although he appears to be Anglo-American, his fellow students represent children of various ethnic groups (and one wears a hearing aid). The simple narratives, clear color illustrations, and plots with which many children can identify, make this series a great choice for a storytime and for library circulation.
Vast, Emilie. From Father to Father. Charlesbridge, 03/2018. [14p.]. $7.99. 978-1-58089-814-0. 
Vast, Emilie. From Mother to Mother. Charlesbridge, 03/2018. [14p.]. $7.99. 978-1-58089-813-3.      Originally published in France in 2016, the text states that a long time ago, my great-great-grandfather (or grandmother) saw a baby born, and each spread goes on until it mentions the child born who is reading the story. The concept may not be clear to the young children who hear the story. The artwork is as repetitious as the text, with each new baby resembling a Russian nesting doll, but using a different background color. This misses the mark.
Wilson, Katie. Animals. Flowerpot Press, 2017.  [20p.]. $8.99. 978-1-4867-1203-8. 
Wilson, Katie. Seasons. Flowerpot Press, 2017. [20p.]. $9.99. 978-1-4867-1305-9.    
  Full color illustrations depict a variety of animals and seasonal factors in these two realistic informational board books. In Animals, readers are asked to identify animals on various continents; the animals are labeled so this is great for prereaders as well as emergent readers. Of course, it is also useful in teaching the names of the seven continents. In Seasons, there is a turning wheel seen in all spreads, where the reader is asked to turn to something representing that season, such as a pumpkin, flip flops, snowflake, etc. Although these won't carry to a storytime audience, they are great for reading one-on-one and for showing how nonfiction can be presented to toddlers. Previous board books in this series include Landmarks, Numbers, ABC's, and Shapes. 
Zucchelli-Romer, Claire. Wiggles. Chronicle, 04/2018. [26p.]. $14.99. 978-1-4521-6475-5.      In the latest "Touch Think Learn" board book from Chronicle Books, readers are instructed to use a finger from the left hand and one from the right, and touch indentations in the pages. Some are lines, some are dots, some are wavy. The narration also mentions what colors are displayed, so this is good for learning shapes and colors. The artwork is basically just the shapes on a light blue background, but this style works for what the book is teaching. This would be great for storytime, because it is similar to Herve Tullet's Press Here (Handprint, 2011).
Penny Peck, San Jose State University iSchool