Yoga Storytime
Revised January 2023
In recent years several libraries have started a yoga-themed storytime to get the kids moving, focus on their breathing, and allow time to de-stress. These yoga storytimes have proven quite popular! Rather than starting a yoga storytime, some other libraries have incorporated simple yoga poses and movements into their regular preschool storytimes. Survey your parents and see what they might like.
Along with yoga poses and some fun picture books and songs, you can offer some other movement activities using scarves, beanbags, or parachutes (as we discussed in the section on dance parties). If you would like to offer an art activity to conclude the storytime, make simple pictures based on the yoga poses you use, such as Tree, Dog, Cat, Butterfly, and so forth.
Tips on yoga for kids:
Use a balloon to demonstrate the concept of full belly breathing
Keep poses and games brief (approximately 30 seconds for poses)
Read a story between every other pose
Preschoolers appreciate and learn from repetition; offer some of the same poses each time
Be safe; no headstands or other advanced poses
Allow for quiet time with simple guided relaxation
Involve the parents/caregivers
If you are starting a yoga storytime check out these two books, which both demonstrate yoga poses appropriate for preschoolers.
Little Yoga: a Toddler's First Book of Yoga by Rebecca Whitford and Martina Selway Whitford
You are a Lion! And Other Fun Yoga Poses by Taeeun Yoo
Helpful websites on yoga and preschoolers:
Picture books that feature yoga:
Emily and the Mighty Om by Sarah Lolley.
Yoga for Kids: Simple Animal Poses for Any Age by Lorena Pajalunga
Meditation Is an Open Sky: Mindfulness for Kids by Whitney Stewart.
I Am Yoga by Amy Verde
Sleepy Little Yoga by Rebecca Whitford
Picture books that are great for a Yoga storytime: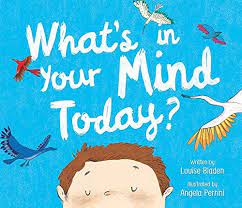 Beliveau, Kathy. The Yoga Game by the Sea.
Bladen, Louise. What's In Your Mind Today?
Edwards, Lisa. I Am Well: Mind, Body, and Healthy Habits.
Engel, Christiane. ABC for Me: ABC Mindful Me.
Gonzalez, Maya Christina. Call Me Tree/Llamame arbol.
Leah, Heather. Yoga Magic.
Lemniscates. Silence. Even when it is silent, a little girl can hear her own footsteps and other sounds.
Magoon, Scott. Breathe. A baby whale plays, sings, dives, and swims, putting up his head to breathe every so often. Follow with deep breathing practice.
Meyer, William. Healing Breath: A Guided Meditation Through Nature for Kids.
Parent, Joseph. A Walk in the Wood: Meditations on the Mindfulness with a Bear Named Pooh. Meditation practices are demonstrated by Winnie the Pooh.
Portis, Antoinette. Now. A little girl describes things that can bring joy, like smelling a flower.
Russo, Brian. A Friend for Yoga Bunny.
Shardlow, Giselle. Rachel's Day in the Garden.
Sileo, Frank J. Bee Heartful: Spread Loving-Kindness.
Stevens, Jamaica. Yoga Adventure.
Strickland, Tessa. Yoga Tots: Calm Bunny.
Verde, Susan. I Am Peace.
Verde, Susan. The Three Little Yogis and the Wolf That Lost His Breath.
Here is a video example of a Yoga Storytime: Kid's Yoga & Story Time @ the Safety Harbor Public Library.
Professional reading:
Scherrer, Katie. Stories, Songs, and Stretches! Creating Playful Storytimes with Yoga and Movement.
Solis, Sydney. Storytime Yoga: Teaching Yogo to Children through Story.
Penny Peck, San Jose State University iSchool