The holiday season is a time when families tend to celebrate together, making for a good opportunity to discuss family members. Be conscious of alternate family lifestyles when choosing books and discussing families, as many children live in single parent families, gay parent families and adopted families. For crafts, you could make fingerprint families: have children make finger prints on a piece of paper and draw eyes, nose mouth and hair on them to create faces for each person their family or make a family tree as shown here.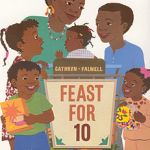 Falwell, Cathryn. FEAST FOR 10.    An African-American family prepares dinner in this memorable counting book.
Garden, N. & Wooding, S. MOLLY'S FAMILY.    Molly and several of her classmates draw pictures of their families and discover how different their families are. Addresses children with single parents and gay parents.
Hutchins, Pat. TITCH.    A young boy compares himself to his two older siblings and discovers he is important.
Keiko, Kasza. A MOTHER FOR CHOCO.    A lonely little bird named Choco goes in search of a mother. Addresses adopted children or children with step-parents.
Kraus, Robert. WHO'S MOUSE ARE YOU?    A lonely little mouse brings his family back together. Use with a mouse puppet as an alternative. Could follow with "Farmer in the Dell."
Lang, Suzanne. FAMILIES, FAMILIES, FAMILIES.  Emphasizing "if you love each other, you are a family," this joyous book describes all types of families.
Levine, Arthur A. MONDAY IS ONE DAY.  Families of all types are described, along with the days of the week, making is a book that invites audience participation.
Morris, Ann. FAMILIES.    A short non-fiction book introducing the concept of families. Photographs feature families around the world.
Parr, Todd. THE FAMILY BOOK.  With Parr's bold illustrations and a very brief text, families of all types are celebrated, including families with two moms, two dads, families of different ethnicities, and more.
Rylant, Cynthia. THE RELATIVES CAME.    A Caldecott Honor book about what it's like when relatives visit. "She'll be comin' round the mountain" or "There were 10 in the bed" are fun songs to follow the book.
Shannon, George. ONE FAMILY. With distinctive illustrations by Blanca Gomez, this counting book celebrates all types of families.
Wild, Margaret. OUR GRANNY.    Grandchildren humorously compare different types of grandmothers to their granny.
Kimberly Lauer Oakland Public Library