The themes of "Cats" and "Dogs" are sure to draw in a big crowd at your storytimes, if you are using the 2014 Summer Reading Program theme "Paws to Read," focusing on pet animals. Of course, even if you aren't using that summer reading theme, pet and animal storytimes are always a big hit!
You can use many of these books for a "Read to a Dog" program as well as in storytime. Also, be sure to sing the song "B-I-N-G-O," which can be found in several books. For a craft project, try these simple dog paperbag puppets.
Ehlert, Lois. RRRALPH.    Ralph can talk – can't you hear him say "roof," "rough," and his name "Rrralph?"
Feiffer, Jules. BARK, GEORGE.    Listeners will call out the various animal sounds in this hilarious book.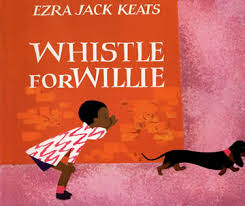 Foreman, Michael. OH! IF ONLY.    The title phrase is repeated, and will be chanted aloud by the audience, in this slapstick-filled circular tale.
Frazee, Marla. BOOT AND SHOE.    In this circular story, two dogs get separated and need to find each other.
Fuge, Charles. YIP! SNAP! YAP!    Children will join in by making their own version of a dog's bark.
Keats, Ezra Jack. WHISTLE FOR WILLIE.    Peter tries to whistle to call his dog but nothing comes out!
Masurel, Claire. TEN DOGS IN THE WINDOW.    In this rhyming counting book, each person adopts a dog that resembles the new owner.
Pritchett, Andy. STICK!    With just one word per page, this is a great choice for a baby or toddler storytime. A dog asks various other animals to join him in playing with a stick he has just found.
Ray, Mary Lyn. BOOM! BIG BIG THUNDER AND ONE SMALL DOG.    Rosie is a brave dog who is afraid of just one thing – thunder!
Simont, Marc. THE STRAY DOG.    A family comes across a stray dog at the park. Will they get to keep him?
Wells, Rosemary. BINGO.    An illustrated book of the fun song, this would carry to a small storytime group.
Yolen, Jane. HOW DO DINOSAURS LOVE THEIR DOGS?    In this humorous rhyming story, dinosaurs (and the listening audience) will learn some basics of pet care.
Also see the previous Dogs storytime ideas page from December 2009.Or Dogs storytime ideas page from June 2000.