Include craft activities like collage art, abstract art using markers or watercolors, or color matching games. If you have a space outside the library, like a patio, you can even try finger-painting. Remember, it's the process, not the product!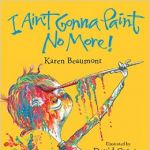 Barry, Frances. DUCKIE'S RAINBOW.   With rainbow-shaped pages, this simple story shows readers the colors of the rainbow.
Beaumont, Karen. I AIN'T GONNA PAINT NO MORE.   Exploding with energy, a little girl paints every space in her house; told to the tune of "It Ain't Gonna Rain No More."
Cabrera, Jane. CAT'S COLORS.   A cat describes ten colors and tells which is his favorite.
Crews, Donald. FREIGHT TRAIN.   Very simple book about colors, using train cars as examples.
dePaola, Tomie. THE ART LESSON.   A young boy is discouraged when an old fashioned art teacher demands art be done just her way.
Emberley, Ed. GO AWAY BIG GREEN MONSTER.   Die-cut pages help kids send away monsters and learn their colors.
Ehlert, Lois. PLANTING A RAINBOW.   Flowers demonstrate the colors.
Fontes, Justine. BLACK MEETS WHITE.   Die-cuts, flaps, and popups show the joys of the under-represented colors of black, white, and gray.
Fox, Mem. WHERE IS THE GREEN SHEEP.   In this joyful, brief story, the opposites and rhymes hold the attention of the youngest listeners.
Hubbard, Patricia. MY CRAYONS TALK.   A very brief text and child-like crayon drawings make this perfect for toddler storytime.
Martin, Bill Jr. BROWN BEAR, BROWN BEAR.   The classic repetition story that uses animals to teach colors.
Pinkwater, Manus Daniel. BEAR'S PICTURE   Two "fine, proper gentlemen" tell a bear he cannot paint a picture, but the bear proves them wrong.
Reynolds, Peter. THE DOT.    Vashti is certain she is no good at art, until a kind teacher encourages her.
Seeger, Laura Vaccaro. LEMONS ARE NOT RED.    Older kids will predict what is in each picture, with colors that may surprise you.
Waddell, Martin. ALICE THE ARTIST   Alice paints a picture, but friends drop by and tell her to add things, until she decides to do it her own way.
Walsh, Ellen Stoll. MOUSE PAINT.   Three white mice find a yellow, red, and blue jar of paint and mix the colors; also available as a Big Book.