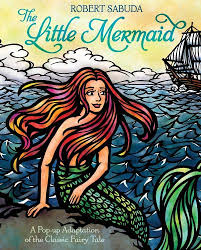 Sabuda, Robert. The Little Mermaid: a Pop-up Adaptation of the Classic Fairy Tale. Illus. by Robert Sabuda. S&S/Little Simon, 2013.  10p. $29.99. ISBN 978-1-4169-6080-5.
Sabuda is king of the elaborate literary pop-up book, and this adaptation of the Hans Christian Andersen tale will not disappoint. Similar in format to his previous books Beauty & the Beast (2010), Peter Pan (2008), and Alice's Adventures in Wonderland (2003), The Little Mermaid has five spreads, each containing a large, detailed pop-up made up of many pieces. He also has included his signature mini-books, embedded onto the page, which contain most of the text as well as some small pop-ups.
     The illustrations are in deep colors with thick black outlines, which give them the appearance of stained glass.  The major pop-ups depict a sea castle, the prince's ship, the sea witch's lair built from human skeletons, the prince's garden, and finally a large proscenium arch depicting the wedding.
The tale is adapted from Andersen, but is relatively long for a pop-up version. Sabuda sticks with the original plot with the sad ending; this is no Disney remake of the tale. Both the story and the delicacy of the paper engineering mean this a book for an older child and not a preschooler. In fact, it may be too fragile for library circulation; it would work best for a collection of non-circulating pop-up books that are used at the library, or as a gift book.
Yeretskaya, Yevgeniya. Woodland Christmas: a Festive Wintertime Pop-up Book. Illus. by Neiko Ng, Engineering by Bruce Foster. Jumping Jack, 2013.  12p. $19.95.  ISBN 978-160580954-0.
 
Rhyming couplets form the text of this description of winter in the forest: "Build a snowman, play outside, Speed on down the snowy slide." Each spread features a large pop-up of animals in clothing, doing the activity described in the text, from baking cookies to singing carols, reading in bed to opening gifts around a Christmas tree.  The lightly colored illustrations with glitter have the feel of a greeting card, but this would be a nice addition to a holiday themed storytime for a small group.
Saltzberg, Barney. A Little Bit of OOMPH! Illus. by Barney Saltzberg. Workman, 2013.  22p. $13.95. ISBN 978-0-7611-7744-9.
Similar in format to Saltzberg's Beautiful Oops! (2010), A Little Bit of OOMPH! talks directly to the reader, encouraging hard work, creativity, imagination, and giving it your all. Each spread has an encouraging phrase, such as "Put your heart into everything you do!" alongside a flap, pop-up, or movable portion of the brightly colored cartoon illustrations.
The mixed-media paintings add a great deal of charm to the package, which has a universal appeal.  In fact, this could work as a graduation gift or a gift for someone with a new job, as much as it works as a children's book. Because there is no story per se, this is just a fun, light endeavor for the reader.