Each month we post an annotated bibliography of books that were rated 'Outstanding' at our previous month's meeting and nominated for our year-end Distinguished List.  Members can see full reviews of these books and many more in the September edition of BayViews.  Not a member?  Join, come to our (currently virtual) monthly meetings, and hear about these Outstanding books "in person"!
Picture Books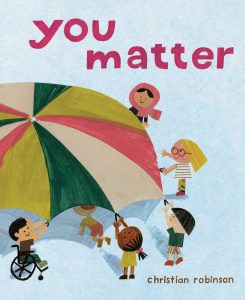 You Matter written and illustrated by Robinson, Christian; Atheneum/Simon & Schuster, 2020.
A lively text encourages self-esteem with the repeated phrase "You matter." This is a great choice for social and emotional learning, and part of the book shows a dinosaur, then a huge asteroid and its aftermath, and then Earth's renewal, so there is a science connection. (Grades PreK-1.)
Fiction
The Boys in the Back Row written by Jung, Mike; Levine Querido/Chronicle, 2020.
Best friends since 4th grade, Matt and Eric are 6th grade comic book fans and band geeks who sit together in the back row of band practice. This well-crafted middle-grade novel celebrates letting your geek flag fly with loyalty, humor, bravery, and resistance to bullies and racism. (4-7.)
Chirp written by Messner, Kate; Bloomsbury/Macmillan, 2020.
In this #metoo novel for middle graders, Mia has a full summer of helping to promote her grandmother's cricket farm, working with some new friends to solve the mystery of who is trying to sabotage the farm, and recovering from physical and emotional trauma experienced while in a gymnastics program. (3-6.)
Clap When You Land written by Acevedo, Elizabeth; HarperCollins, 2020.
Yahaira's father is killed in a plane crash on his way from New York to the DR. Camino, waits at the airport in the DR for her father, but is met with the news that the crash had no survivors. Connected by their father's secrets, Yahaira and Camino navigate loss, secrets and the meaning of family. (7-12.)
Legendborn written by Deonn, Tracy; Margaret K. McElderry/Simon & Schuster, 2020.
Debut author Tracy Deonn combines African American history and spiritual traditions with Arthurian legend, mages, and demons, in a fast- paced, contemporary, entertaining and engrossing tale of a Black girl coming of age and coming into her own, on the campus of UNC Chapel Hill. (9-Adult.)
The Time of Green Magic written by McKay, Hilary; Margaret K. McElderry/Simon & Schuster, 2020.
In a newly blended family, Abi and her father (of Jamaican heritage) move into a unique old house with her stepmother and two stepbrothers; the three new siblings join forces to defeat a magical element in the house that is threatening the little brother Louis. (4-8.)
Graphic Novels
Class Act written and illustrated by Craft, Jerry; HarperCollins, 2020.
This follow up to New Kid looks deeper into the differing experiences of students at an affluent private school based on class and race. With expansive, colorful art, the story wraps realistic characters, humor and sharp insights into an authentic view of the 8th graders' day to day world. (5-9.)
Twins written by Johnson, Varian and illustrated by Wright, Shannon; Graphix/Scholastic, 2020.
Black identical twins Maureen and Francine are entering middle school; Maureen resists "Fran's" attempts to be seen as an individual. The narrative provides a fresh take on the old "twins growing up" storyline, with strong art and rich colors bringing their world to life. (3-7.)