Every month, we post an annotated bibliography of books that were rated 'Outstanding' and nominated for our Distinguished List at our previous month's meeting. Members can see full reviews of these books and many more in the November edition of BayViews.
FICTION
The Nest written by Kenneth Oppel, illustrated by Jon Klassen; Simon & Schuster Books for Young Readers 2015
Agonizing over his sick baby brother's struggle to survive, Steve is visited in his dreams by a mysterious wasp queen who offers to save his brother, but at what cost? Definitely not for the feint-hearted or nervous reader, this terrifying page-turner will give horror fans a first rate scare. (5-8)
The Hired Girl written by Laura Amy Schlitz; Candlewick 2015
Moving from an isolated life to working as a hired girl for a wealthy Jewish family, Joan recounts in her diary the adventures she has on her way to becoming an independent woman. Skillfully written, this is an excellent study of faith, family, and a woman's place in society. (6-9)
None of the Above written by  I. W. Gregorio; Balzer + Bray 2015
High school senior Kristin Lattimer's life gets complicated when she discovers she is intersex, appearing female but having some male physical characteristics. This well researched book uses the perceptions of Kristin's family and friends to address misconceptions about being intersex as well as exploring positive ways of managing the diagnosis. Backmatter includes a list of resources. (9-12)
Goodbye Stranger written by Rebecca Stead; Wendy Lamb Books 2015
An unforgettable tale of teenage friendship and a cautionary tale regarding the temptation to succumb to a charismatic leader. Stead's characterization is so strong that it catapults the reader into contemporary life as a middle schooler in Manhattan. (6-9)
PICTURE BOOK
Waiting written and illustrated by Kevin Henkes; Greenwillow Books 2015
Five toys wait on a windowsill and all of the trinkets wait for something to happen outside of the window. Illustrations are drawn in black ink with soft watercolor hues coloring the drawings.The feelings of the toys are subtly expressed with small facial changes. Henkes' seemingly simple book has a meditative quality on waiting which will appeal to children. (PS-3)
Ketzel, the Cat Who Composed written by Lesléa Newman, illustrated by Amy Bates; Candlewick 2015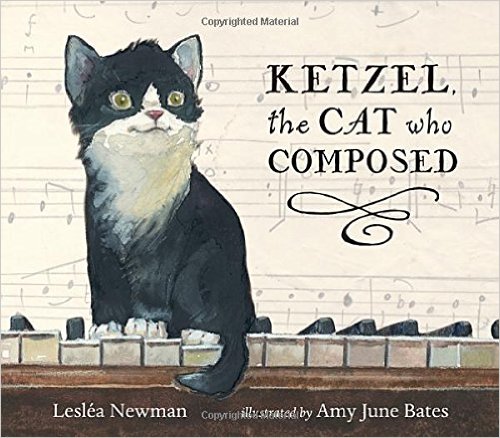 Ketzel the kitten becomes a celebrated composer when his owner, Moshe, submits his work to a competition for one-minute compositions. Richly illustrated and eloquently narrated, this delightful true story will captivate young audiences. (K-3)
Lillian's Right to Vote: a Celebration of the Voting Rights Act of 1965 written by Jonah Winter, illustrated by Shane W. Evans; Schwartz & Wade 2015
As she climbs a dauntingly steep hill to cast her vote, 100-year-old Lillian recollects historical moments in the African-American struggle to secure voting rights. The elegant, succinct narration and dramatic, dignified illustrations commemorate the long journey leading to the Voting Rights Act of 1965. (3-6)
A Is for Acorn: A California Indian ABC written by Analisa Tripp, illustrated by Lyn Risling; Heyday 2015
This simple alphabet board book of things relating to California Indian culture is great for babies and toddlers, but libraries should also consider for 3rd and 4th grade classes studying local and California history. Lovely colored pencil illustrations; author and illustrator from the Karuk tribe.
NON-FICTION
Water Is Water: A Book About the Water Cycle written by Miranda Paul, illustrated by Jason Chin; Roaring Brook Press 2015
A brother and sister explore water's various forms as they play and explore throughout the seasons. Told in rhythmic verse and handsomely illustrated, this is a lively introduction to the water cycle. (PS-2)
The Book Itch: Freedom, Truth, & Harlem's Greatest Bookstore written by Vaunda Micheaux, illustrated by R. Gregory Christie; Carolrhoda Books 2015 
This picture book presentation of the life of Lewis Michaux, through the eyes of his young son gives a taste of the politically and intellectually active community in Harlem, and convey the outlook of the subtly influential and relentlessly positive bookstore owner as well as the context that surrounded him.
BIOGRAPHY
Voice of Freedom: Fannie Lou Hamer: Spirit of the Civil Rights Movement written by Carole Boston Weatherford, illustrated by Ekua Holmes; Candlewick Press 2015
Richly hued collage, painted and stenciled illustrations accompany the first person, verse biography of larger than life, civil rights activist, Fannie Lou Hamer. Weatherford keeps Hamer's bravery, strength and humanity in focus without mythologizing, leaving readers with the sense that they have met a real person. Must see! (6-12)
GRAPHIC NOVEL
Nimona written and illustrated by Noelle Stevenson; Harper Teen 2015
Shapeshifter Nimona joins the evil Blackheart to take down the not-so heroic Institution of Law Enforcement and Heroics, along with Blackheart's nemesis Goldenloin. Through witty dialog, intense action, and complex questions of morality, Stevenson weaves a story ultimately about friendship and trust. (7-12)