Each month we post an annotated bibliography of books that were rated 'Outstanding' and nominated for our Distinguished List at our previous month's meeting.  Members can see full reviews of these books and many more in the June edition of BayViews.  Not a member?  Join, come to our monthly meetings, and hear about these Outstanding books in person!
PICTURE BOOKS
Crescent Moons and Pointed Minarets: A Muslim Book of Shapes written by Khan, Hena and illustrated by Amini, Mehrdokht; Chronicle, 2018.
Written by the authors of Golden Domes and Silver Lanterns: A Muslim Book of Colors, this charming picture book explores everyday shapes, simple and complex, as experienced by Muslims of diverse skin tones in a variety of settings.  A welcome addition to a variety of collections that can be enjoyed by both those familiar with Muslim and Islamic culture, as well as those wanting to learn more.  (Baby/Toddler-Grade 2.)
Hello Hello written and illustrated by Wenzel, Brendan; Chronicle, 2018.
Animals display their vast variety and shared characteristics in Caldecott Honor-winner Brendan Wenzel's superb new picture book.  The book works on many levels and will grab a wide range of readers.  (PreK-2.)
I Am Enough written by Byers, Grace and illustrated by Bobo, Keturah A.; Balzer + Bray, 2018.
In an inspiring and uplifting book that provides positive affirmation of the value of every person, regardless of race or ability, Byers speaks from her heart as a multi-racial and CODA (Child of Deaf Adults) who was bullied in school.  (PreK-1.)
Julián is a Mermaid written and illustrated by Love, Jessica; Candlewick, 2018.
As Julián and his abuela head home after a swim at the pool, Julián notices women dressed as mermaids, trigging dreams of his being a mermaid himself.  Featuring a cast of characters who are exclusively of color, the gorgeous, bright illustrations pop, swirl, and dance.  A lovely triumph on many levels.  (PreK-2.)
Square written by Barnett, Mac and illustrated by Klassen, Jon; Candlewick, 2018.
In this follow-up to Triangle (2017), Square is moving square-shaped rocks when friend Circle comes by and compliments his sculptures, asking him to make one that looks like her.  The artwork is simple but charming, done in black, grey, and beige, and resembles block printing.  (PreK-2.)
A Stone for Sascha written and illustrated by Becker, Aaron; Candlewick, 2018.
After burying their beloved family dog Sascha, an African American family travels to the beach, where the daughter finds a bright, yellow stone.  Featuring richly-colored and textured illustrations, Becker's latest wordless picture book is an epic journey following the stone around the globe and though time that is sure to spark discussion.  (K-3.)
This Is It written and illustrated by Peoples Riley, Daria; Greenwillow, 2018.
A young ballerina of color dances through the streets of New York on the way to an audition followed by her shadow, who encourages the girl with snappy free-verse proclamations that she is unique, capable, and meant to do this.  Expressive illustrations convey the energy of both the dancer and the city and complement the text, which emphasizes determination, confidence, strength, and athleticism.  (PreK-3.)
FICTION
Hurricane Child written by Callender, Kheryn; Scholastic, 2018.
Hurricane Child portrays the complex and unique landscape of the U.S. Virgin Islands and the ever-relatable challenges of middle school bullies and a first crush.  Callender creates a feast of a rich setting, complex characters, passionate friendship, and beautiful prose.  (5-8.)
Truly Devious written by Johnson, Maureen; Katherine Tegen/HarperCollins, 2018.
Stevie Bell is obsessed with crime solving, so she's beside herself when she's accepted to Ellingham Academy, a remote mountain estate which was the site of an infamous 1936 kidnapping which has yet to be solved.  Chock full of intriguing characters and unanswered questions, Johnson's latest will satisfy mystery enthusiasts.  (7-12.)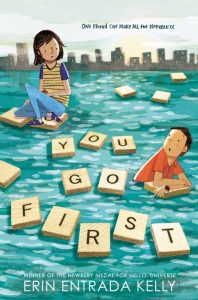 You Go First written by Kelly, Erin Entrada; Greenwillow/HarperCollins, 2018.
Eleven year-old Ben may live in Louisiana and twelve year-old Charlotte in Pennsylvania, but they share more than a love of online Scrabble in common.  2018 Newbery Award-winning author Kelly switches between her memorable characters, employing small touches and deep characterization to make for a fresh story.  (4-7.)
GRAPHIC NOVELS
The Dragon Slayer: Folktales from Latin America written and illustrated by Hernandez, Jaime; TOON Graphics/TOON Books, 2018.
Three beloved Latin American folktales come to life in a graphic format certain to delight young readers without compromising authenticity.  Bold and colorful cartoons showcase strong women within a diverse cast of characters that represents the region's rich mix of cultures.  (3-6.)
BIOGRAPHY
The Golden Thread: A Song for Pete Seeger written by Meloy, Colin and illustrated by McClure, Nikki; Balzer + Bray, 2018.
Colin Meloy and Nikki McClure collaborate on a picture book biography in folksy verse of the long and remarkable life of Pete Seeger.  Dynamic cut-paper illustrations pull the reader forward and the text tumbles along best when read aloud in this fitting tribute to Seeger's work and struggles.  (K-3.)