Outstanding Books of the Month – February 2022
Each month we post an annotated bibliography of books that were rated 'Outstanding' at our previous meeting and nominated for our year-end Distinguished List. Members can see full reviews of these books and many more in the February edition of BayViews. Not a member? Join, come to our (currently virtual) monthly meetings, and hear about these Outstanding books "in person"!
Picture Books
Wonder Walkers, written and illustrated by Micha Archer, Nancy Paulsen Books, 2021.
Two children go outside for a walk. They notice many beautiful aspects of nature and wonder "Is fog the river's blanket?" or "Are branches trees' arms?" The dramatic collage illustrations were created with tissue paper, handmade stamps, and ink. A Caldecott Honor book. (Grades PreK-2).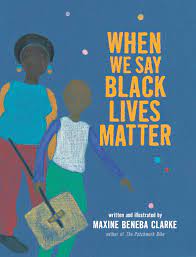 When We Say Black Lives Matter, written and illustrated by Maxine Beneba Clarke, Candlewick, 2021.
Simply told in rhyming verse, this dramatic picture book clearly explains a complex topic: "Little one, when we say Black Lives Matter, we're saying Black people are wonderful-strong. That we deserve to be treated with basic RESPECT, and that history's done us wrong." (Grades K-3).
Born On the Water by Nikole Hannah-Jones, illustrated by Nikkolas Smith, Kokila, 2021.
A young Black girl is assigned to draw up a family tree, but she can only trace her family history back to her great-grandparents. Her grandmother shares a beautiful tale in verse about her ancestors in West Central Africa. This is a great book for parents and teachers alike to share with kids. (Grades K-4).
Fiction
Firekeeper's Daughter by Angeline Boulley, Holt, 2021.
Eighteen-year-old Ojibwe Daunis Fontaine goes undercover with the FBI to help an investigation into meth dealing among her tribal community. Boulley weaves contemporary Native American issues with traditional Ojibwe language, politics, imagery, and beliefs in this thrilling murder mystery. (Grades 9-12).
Last Cuentista, The by Donna Barba Higuera, Levine Querido, 2021.
Petra Peña journeys to another planet in a bid to save humanity, encountering obstacles that no one could have predicted, all while working to keep her heritage and stories alive. (Grades 5-9).
Too Bright to See by Kyle Lukoff, Dial, 2021.
During the summer before middle school, Bug's uncle has died, and Bug is going through an identity crisis with the support of Mom and friend Moira, although Bug is challenged by the fact their house is haunted. The novel discusses the struggles of middle school, making friends, and gender identity. (Grades 5-7).
Nonfiction
Picturing a Nation: The Great Depression's Finest Photographers Introduce America to Itself by Martin W. Sandler, Candlewick, 2021.
The Farm Security Administration started a project in 1935 where noted photographers (including Dorothea Lange, Walker Evans, Gordon Parks, Russell Lee) were hired to document what Americans were going through, from struggling farmers and migrants fleeing the dustbowl, to those in cities. (Grades 7-12).
The People Remember by Ibi Aanu Zoboi, illustrated by Loveis Wise, Balzer+Bray, 2021.
In Zoboi's (American Street, 2018) first book for younger readers, she describes the history of African Americans, using the pillars of Kwanzaa as the organizing structure. The text is done using free verse poetry, with repetition and rhythm that make this a great classroom read-aloud. (Grades K-5).