Every month, we post an annotated bibliography of books that were rated 'Outstanding' and nominated for our Distinguished List at our previous month's meeting. Members can see full reviews of these books and many more in the February edition of BayViews.
PICTURE BOOK
The Christmas Eve Tree written by Huddy, Delia and illustrated by Sutton, Emily; Candlewick 2016
A heart warming story about a Christmas tree destined for landfill that gets chosen by a homeless boy. After it is decorated, it provides Christmas cheer to those who see it. And, when its life should be over, it is planted to provide shelter as it grows larger and larger. (K-2)
King Baby written and illustrated by Beaton, Kate; Arthur A. Levine Books 2016
A new baby is brought home ot joyful and proud parents. He is gracious, but also has many demands. Told in a very tongue-in-cheek fashion by the author. (PS-1)
Leave Me Alone! written and illustrated by Brosgol, Vera; Roaring Brook Press 2016
Grandma wants a quiet place to knit but is overrun by dozens of grandchildren, so she leaves to find some peace and quiet, before returning with sweaters for everyone. This original humorous tale has many of the traditions of a folktale and the Caldecott Honor artwork is really the standout feature of the book, with dirndl-skirted characters shown in the small village. (PS-3)
Lucky Lazlo written and illustrated by Light, Steve; Candlewick 2016
Lazlo is in love and wants to give the girl starring in the Alice in Wonderland play a red rose but a cat manages to run off with the gift, scampering into the theatre causing havoc. An author's note includes fascinating information on theatrical superstitions, many of which have been included in the illustrations. (PS-2)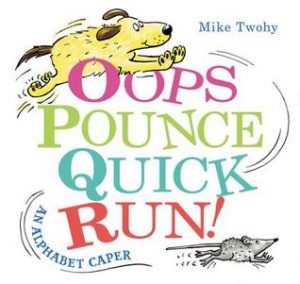 Oops Pounce Quick Run! An Alphabet Caper written and illustrated by Twohy, Mike; Balzer + Bray 2016
This clever book has two levels – the alphabet showing words that describe what is occurring, and the cartoon story told by the illustrations in what could have been a wordless book. The two elements combine for a wonderful story about a dog chasing a mouse, who wants his ball back. (PS-3)
FICTION
If I Was Your Girl written by Russo, Meredith; Flatiron Books 2016
High school senior Amanda is starting a new life in Lambertville, TN. But she has a secret – she is a trans girl and this is the first time she has truly been able to live as she has always felt inside. This well-written and hopeful book should gain wide cisgender and transgender readership. (9-12)
The Serpent King written by Zentner, Jeff; Crown Books for Young Readers 2016
This complex coming-of-age story set in small-town Tennessee features three young adults struggling to find themselves while fighting the traditions and assumptions of their parents and their conservative environment. Facing tragedy and controversy head on, Zentner creates a believable world filled with touching, relatable characters and issues. (9-12)
Still Life With Tornado written by King, A.S.; Penguin Young Readers Group 2016
Sarah will do just about anything to avoid school, her classmates, and her past, but no matter what she does she cannot escape herself. Filled with whit, honesty, and a touch of magical realism, Still Life With Tornado is a fantastic young adult novel that does not shy away from tough topics including abuse, depression, and bullying. (8-12)
A Study In Charlotte: A Charlotte Holmes Novel written by Cavallaro, Brittany; Katherine Tegen Books; 1st edition 2016
Cavallaro creates a romantic, sometimes funny, thriller that is definitely not your mother's Sherlock Holmes, but is intriguing nonetheless. Descendants of the famous duo, Charlotte Holmes (great-great-great-granddaughter ) and Jamie Watson (great-great-great-grandson) meet while studying at a prep school in Connecticut, where a murder on campus – with elements startlingly related to one of the Sherlock Holmes stories — pushes the two of them into the suspect pool. (9-12)
BIOGRAPHY
Blood Brother: Johnathan Daniels and His Sacrifice for Civil Rights written by Wallace, Rich; Calkins Creek 2016
The biography of Jonathan Daniels, a White minister and Civil Right Activist who murdered in 1965, is told in this engaging and gripping work. The format lends itself to children and hi-lo adults. This is a highly recommended book for every school library, public library, and adult literacy program. (6-8)
FOLKLORE
The Princess and the Warrior: A Tale of Two Volcanoes written and illustrated by Tonatiuh, Duncan; Harry N. Abrams 2016
In this adaptation of a Mexican legend, a princess falls in love with a warrior who goes to battle to win her hand. The compelling narrative has touches of "Romeo and Juliet," and is an origin tale about the two volcanoes near Mexico City. The hand drawn, digitally colored artwork in this Pura Belpre Illustrator Honor title is done using Tonatiuh's customary style, resembling Mixtec codices. (K-5)
NON-FICTION
In the Shadow of Liberty: The Hidden History of Slavery, Four Presidents, and Five Black Lives written by Davis, Kenneth C.; Henry Holt and Co. 2016
Kenneth Davis, author of the Don't Know Much About History series builds a well researched and essential analysis of slavery in America from his focus on the lives of lives of enslaved servants to Washington, Jefferson, Madison and Jackson. (6-12)
This Land Is Our Land: A History of American Immigration written by Osborne, Linda Barrett; Harry N.
Abrams 2016
Beginning with English settlers arriving in 1607, this well researched book provides a chronology of immigration in America from Europe, Asia and Latin America. Photographs, illustrations and quotes from both immigrants and those who feared them, as well as exhaustive back matter, enrich and enhance accessibility of the content. (5-10)
The School the Aztec Eagles Built: A Tribute to Mexico's World War II Air Fighters written by Nicholson, Dorinda Makanaonalani; Lee & Low Books 2016
During WWII, Mexican members of the military trained in the U.S., to be the first troops to leave Mexico to fight overseas when they went to the Philippines. To recognize their efforts, the Mexican government built a school named after them which is still in use. The book design notable, with b&w or color photos on each page. (3-8)
Sea Otter Heroes: The Predators that Saved an Ecosystem written by Newman, Patricia; Millbrook Press
2017
Newman's account of the effect of Sea Otters on the Elkhorn Slough estuary near Monterey Bay describes how a young marine biologist used the scientific method to discover why the seagrass, which should have been dying from chemical pesticide and fertilizer runoff, is thriving along the California coast. Numerous photos, graphs, and maps assist in the ease of understanding the science. (3-7)
The Search for Olinguito: Discovering a New Species written by Markle, Sandra; Millbrook Press 2017
Large and clear color photos, maps, page decorations, and other attractive book design elements combine with a clear, descriptive text to produce a book that will appeal to a wide age range, focusing on a new species which lives in the South America cloud forest.  (3-8)