Each month we post an annotated bibliography of books that were rated 'Outstanding' and nominated for our Distinguished List at our previous month's meeting.  Members can see full reviews of these books and many more in the December edition of BayViews.  Not a member?  Join, come to our monthly meetings, and hear about these outstanding books in person!
PICTURE BOOKS
After the Fall: How Humpty Dumpty Got Back Up Again written and illustrated by Santat, Dan; Roaring Brook, 2017.
The Humpty Dumpty nursery rhyme is expanded to encompass what happens to Humpty after he recovers from his fall but is now terrified of heights.  Spare text and multimedia illustrations filled with humorous details, varying color palettes and a dizzying array of perspectives perfectly complement the story.  (Grades Kindergarten-2.)
All the Way to Havana written by Engle, Margarita and illustrated by Curato, Mike; Henry Holt, 2017.
Refurbished cars, in particular his family car Cara Cara, play a central role when a young boy and his family travel from their village home to Havana for a family celebration.  Lots of onomatopoeia, poetic text, colorful, expressive illustrations, and nostalgic end papers combine to charm readers.  Author and illustrator notes explain the roots of the book and bring it into perspective.  (PreK-2.)
Baby Goes to Market written by Atinuke and illustrated by Brooksbank, Angela; Candlewick, 2017.
A brown-skinned baby boy rides on his mama's back as she does her shopping at an outdoor Nigerian market.  This vibrantly illustrated picture book by a Nigerian author and illustrator offers clear black typeface on white backgrounds, a rhythmically lilting text, and a touching story about the strong bonds in a community.  (Baby/Toddler-K.)
Blue Sky White Stars written by Naberhaus, Sarvinder and illustrated by Nelson, Kadir; Dial/Penguin Random House, 2017.
Gloriously expanding the author's 68-word poem about the American flag, Kadir Nelson's distinctive oil paintings evoke feelings of wonder at the majesty of America's icons, from the Statue of Liberty to the astronauts planting the flag on the moon.  This is the rare book that works for all ages.  (PreK-5.)
Can't Catch Me! written by Knapman, Timothy and illustrated by Circaolo, Simona; Candlewick, 2017.
An inventive take on the classic cumulative tale, the Gingerbread Man, this book features a boastful young mouse who taunts various animals until… "Delicious", the tale ends with the mouse in Old Tom Cat's jaws.  Children of all ages will delight in the chase, peppered with lively action words and illustrated with expressive pen and watercolor paintings.  (PreK-2.)
A Christmas for Bear written by Becker, Bonny and illustrated by Denton, Kady Macdonald; Candlewick, 2017.
When Mouse arrives at Bear's house on Christmas, he is shocked to find that Bear claims there will be no presents for anyone, only pickles and poems.  Denton's illustrations humorously bring the text to life, and readers will chuckle at Mouse's childlike curiosity and Bear's gruff façade.  (PreK-2.)
A Greyhound, A Groundhog written by Jenkins, Emily and illustrated by Appelhans, Chris; Schwartz & Wade/Penguin Random House, 2017.
A greyhound dog and a groundhog play together in this unusual picture book, with a tongue-twisting brief text paired with dynamic watercolor illustrations.  The use of a very limited selection of words allows emergent readers to display their skill, and encourages re-reading.  (PreK-2.)
The Legend of Rock Paper Scissors written by Daywalt, Drew and illustrated by Rex, Adam; Balzer + Bray/HarperCollins, 2017.
The epic legend of the first heroic battle between Rock, Paper, and Scissors told hysterically and theatrically in this bold, energetic picture book will grab children's attention as an elementary school read-aloud.  (K-4.)
Little Fox in the Forest written and illustrated by Graegin, Stephanie; Schwartz & Wade/Penguin Random House, 2017.
Two friends trying to recover a stuffed animal follow a young fox through the dim forest and then into a magical world of friendly forest creatures in this sweetly satisfying wordless picture book.  (K-4.)
The Little Red Cat Who Ran Away and Learned His ABC's (the Hard Way) written and illustrated by McDonnell, Patrick; Little, Brown/Hachette, 2017.
Ink and watercolor cartoons on white backgrounds tell a nearly wordless story of a red cat who has an exciting day.  Each page features upper and lower case letters in alphabetical order, while the artwork shows the cat with something representing each letter, beginning with an alligator, then bear, chicken, dragon, and so on, being chased, falling off a cliff, parachuting, etc.  (PreK-2.)
Many: The Diversity of Life on Earth written by Davies, Nicola and illustrated by Sutton, Emily; Candlewick, 2017.
Stunning watercolor illustrations and easy to understand science – including interesting factual side-notes on everything from lichen beetles to over-fishing – make this book about diversity and the interconnectedness of life on earth accessible and engaging for readers and listeners of all ages.  The narrative follows a young notebook-toting girl as she investigates different lifeforms and food webs, ending with a sobering look at the havoc wreaked by irresponsible human behavior, and the reminder that "human beings are part of the pattern, too".  (PreK-2.)
Now written and illustrated by Portis, Antoinette; Roaring Brook, 2017.
A pale-brown skinned girl lists a number of things that are her favorites in the world, touching on many sensations and experiences with which all children should identify.  Bold-outlined illustrations feature visible brushstrokes that add texture and movement, as well as soft, pleasing hues which complement the spare, gentle text.  (PreK-2.)
Robinson written and illustrated by Sís, Peter; Scholastic, 2017.
An adventure-loving boy's mother crafts a Robinson Crusoe costume for him, but when his friends end up laughing at his outfit he falls ill and has a fever dream in which he is transported to a fantastical island.  Sís's pleasing watercolor illustrations highlight this tale which speaks to the power of books and imaginative play to transport.  (PreK-2.)
The Tree Billy Goats Gruff written and illustrated by Pinkney, Jerry; Little, Brown/Hachette, 2017.
Jerry Pinkney has once again used his excellent storytelling skill and artistic mastery to take a familiar folktale and create a picture book that readers will return to again and again.  The brief text is delivered with drama and the fluid watercolor illustrations expand the enjoyment.  Not to be missed.  (PreK-1.)
Wolf in the Snow written and illustrated by Cordell, Matthew; Feiwel & Friends/Macmillan, 2017.
A small child and a wolf pup get lost in a snowstorm and discover each other before finding their way home.  Graphically strong, visually rich ink and watercolor illustrations perfectly match the power, charm and wit of the nearly wordless story's dramatic and compassionate tale.  (PreK-3.)
FICTION
Beyond the Bright Sea written by Wolk, Lauren; Dutton/Penguin Random House, 2017.
Told in first person and set in 1935 on a small Massachusetts island, Crow describes how she discovers who her birth parents were; she is a foundling raised by a fisherman Osh and neighbor Miss Maggie.  As she did with her Newbery Honor book Wolf Hollow (2016), Wolk is adept at time period, rural setting, and characterizations, as well as an original plot with elements of mystery that will keep tween readers engaged.  (4-6.)
A Face Like Glass written by Hardinge, Frances; Amulet/Abrams, 2017.
A Face Like Glass, originally published in the UK in 2012, has luxuriant imagination, believably complex characters, glorious writing, and astonishingly rich world-building.  Twelve year-old Neverfell is a newcomer to Caverna, a rampantly decadent underground society where babies have to be taught how to show their feelings on their faces.  (8-10.)
It All Comes Down to This written by English, Karen; Clarion/Houghton Mifflin Harcourt, 2017.
Sophie is the youngest member of an upper middle class African-American family in Los Angeles in 1965; she is dealing with her parents' rocky marriage and her older sister's imminent leave for college.  When the Watts riots break out, she learns of a friend's unjust arrest and how living in two worlds is tougher than she bargained for.  (5-8.)
Little & Lion written by Colbert, Brandy; Little, Brown/Hachette, 2017.
Brandy Colbert's strong second novel spends a significant summer in L.A. with the titular Little – Suzette to anyone who isn't her big brother Lionel.  A YA novel that deftly reflects complexity while moving the story along engagingly, Little & Lion is worth adding to any library collection serving teens.  (7-12.)
My Brigadista Year written by Paterson, Katherine; Candlewick, 2017.
The story of Fidel Castro's 1961 campaign to increase Cuba's literacy rate from 60 to 96% in a single year, My Brigadista Year is an impressive coming-of-age story for a protagonist who learns her own abilities and limitations.  Protagonist Lora is a wonderful narrator, and stories, songs, and poetry of the era help her show the reader the challenges and triumphs of a year taught teaching in rural Cuba.  (4-12.)
Piecing Me Together written by Watson, Renée; Bloomsbury, 2017.
Jade, a low-income African American teen attending a prestigious private high school, struggles to have the adults around her stop looking at her as a project and instead see her intelligence, artistic talent, and ambition.  While exploring issues of race and class, the narrative shows the harm done by focusing on young people's problems and ignoring their abilities.  (7-12.)
The Shanghai Incident (Master Diplexito and Mr. Scant) written and illustrated by Methods, Bryan; Carolrhoda/Lerner, 2017.
The second book in the Master Diplexito and Mr. Scant series.  The two Caucasian partners go to Paris in search of Mr. Scant's missing niece, and from there to Shanghai.  Once in China, they find that their search coincides with the plots of three secret societies.  Another main character, Miss Cai Zhao-Ji, uses her skills to assist in foiling the villains' plans to cause a war of international import.  Good and evil behaviors of a variety of characters are shown, whether British, Chinese, or French – no stereotypes here.  (4-8.)
The Whiz Mob and the Grenadine Kid written by Meloy, Colin and illustrated by Ellis, Carson; Balzer + Bray/HarperCollins, 2017.
In Marseille, France, 1961, Charlie Fisher, the neglected twelve year-old son of an American Consul General, falls in with a crew of young, multicultural pickpockets.  Meticulously crafted and thoroughly researched, vivid descriptions rife with specific detail bring the streets of the French city to life, and an occasional authorial direct address adds further humor to an already amusing tale.  (3-7.)
Wishtree written by Applegate, Katherine; Feiwel & Friends/Macmillan, 2017.
When Red the oak tree is moved by the tearful wish of a neighborhood girl and vandalism that jeopardizes the tree's future, Red and animal friends in the neighborhood decide to get involved.  Applegate's captivating and imitable story conveys timely and important themes about inclusion and tolerance.  (3-6.)
GRAPHIC NOVELS
Poe: Stories and Poems: A Graphic Novel Adaptation written and illustrated by Hinds, Gareth; Candlewick, 2017.
Gareth Hinds' newest graphic novel adaptation includes four of Poe's iconic short stories and three poems illustrated using vivid contrasts of darkness and color that bring the tales to life.  Readers will appreciate the pairing of illustrations with Poe's terror-filled fiction and may find deeper understanding in the writing.  (8-Adult.)
Swing It, Sunny written by Holm, Jennifer L. and illustrated by Holm, Matthew; Scholastic, 2017.
Middle schooler Sunny is dealing with her older brother Dale's stint in military school.  She misses him, but the family hopes the boarding school will help him with his drug problem.  This second book featuring Sunny is equal with the first, with its authentic look at growing up in the late 1970's.  (3-7.)
FOLKLORE
Let's Clap, Jump, Sing & Shout; Dance, Spin & Turn It Out!: Games, Songs & Stories from an African American Childhood collected by McKissack, Patricia C. and illustrated by Pinkney, Brian; Schwartz & Wade/Penguin Random House, 2017.
This collection of nearly 100 African-American rhymes, hand-claps, jump rope rhymes, songs, Bible parables, and short traditional tales will serve as a welcome read-aloud for families, storytime presenters, and classroom and Sunday school teachers.  Many entries have a one-paragraph introduction on the history of the song or story, but don't always include the original sources.  (PreK-Adult.)
NON-FICTION
Here We Are: Feminism for the Real World edited by Jensen, Kelly; Algonquin/Workman, 2017.
Like the '90s Listen Up! and To Be Real, Jensen's timely anthology serves to welcome newcomers to the feminist fray as well as to fortify and veteran feminists who happen by.  Today's realities and today's YA-serving libraries need a feminism 101 text that speaks to our current historical moment: Here We Are.  (7-12.)
How to Be an Elephant: Growing Up in the African Wild written and illustrated by Roy, Katherine; David Macaulay Studio/Roaring Brook, 2017.
Roy focuses on a female African elephant from birth to adulthood.  The format includes some two-page illustrations with brief or no text, but most spreads pair a full-page illustration with a page of text examining an aspect of the animal, such as an elephant's trunk, digestive system, or how it keeps cool.  (3-6.)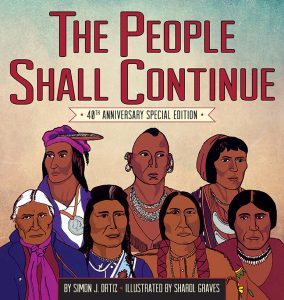 The People Shall Continue: 40th Anniversary Special Edition / El Pueblo Seguirá: Edicion Especial 40 Aniversario written by Ortiz, Simon J. and illustrated by Graves, Sharol; Children's Book/Lee & Low, 2017.
Originally published 40 years ago as a free verse poem by Simon J. Ortiz (Acoma Pueblo), this special anniversary edition has new artwork on the cover and a new author's note at the back.  The text uses an oral narrative style, describing the history of the Native People in what is now the United States.  A must-have for all public and school libraries, this has a unique "all ages" appeal due to the subject matter and the authentic depictions.  [Simultaneously published in a Spanish edition.]  (PreK-Adult.)
A World of Information written by Platt, Richard and illustrated by Brown, James; Candlewick, 2017.
This oversized encyclopedia of miscellany features intriguing facts, accessible diagrams, and exemplary design.  Reviewing thirty disparate subjects, this encyclopedia addresses the history of each subject's discovery or creation and how each applies to contemporary life.  (3-8.)
BIOGRAPHY
Muddy: The Story of Blues Legend Muddy Waters written by Mahin, Michael and illustrated by Turk, Evan; Atheneum/Simon & Schuster, 2017.
Never good at doing what he was told, Mississippi Delta-born Muddy defies his Grandma Della by preferring the blues over the music in church, and eventually moves to Chicago to pursue music while always refusing to compromise playing exactly what he feels.  Jazzy text and stunning illustrations which vibrate off the page highlight this arresting and inspiring picture book biography.  (K-3.)