Winter Holiday Quick Picks
     Need a few suggestions for new holiday books for December? Here are some that are worth checking out, to add to your library:
Board Books
Klein-Higger, Joni and Barbara Sharf. Barnyard Bubbe's Hanukkah. Illus. by Monica Gutierrez. Kar-Ben, 09/2019. [12p.] $5.99. 978-1-5415-2215-2.
     Loosely based on the song "The Twelve Days of Christmas," this rhyming story is set on a farm: "On the second night of Hanukkah, what did Barnyard Bubbe see? Two cups of oil. 'Oh my. Who has left this for me?"  The text includes plenty of repetition, counting, and animal sounds to involve young listeners, who might guess that Bubbe will use the items to make latkes. The full color cartoonish artwork serves the text. Some may question why she owns a pig, but for a general audience, this could be a nice Hanukkah read-aloud. 
Surplice, Holly. Snow Still. Nosy Crow, 10/2019.  [22p.] $8.99. 978-1-5362-0834-4.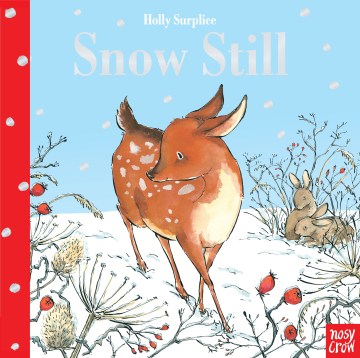 A fawn is playing in the snow in this rhyming, simple story with lovely watercolor and ink illustrations. The text consists of two-word sentences, each beginning with "snow:"  "Snow white. Snow slide. Snow chase. Snow hide." Great for emergent readers, this winter celebration is a good storytime choice because it doesn't focus on religion.
Sussman, Joni K. Grover's Hanukkah Party. Illus. by Tom Leigh. Kar-Ben, 09/2019. [10p.] $5.99. 978-1-5415-2923-6.
If you are looking for a fun, easy book for a Hanukkah storytime, this isn't really a good choice due to the lack of information and context. Grover explains that Hanukkah is a "holiday of 8" but doesn't explain the eight days, or any of the other background about the event. At the party, there are eight candles, jelly donuts, latkes, and chocolate coins but the adult reader will need to explain the significance.
Young, Amy. A Unicorn Named Sparkle's First Christmas. FSG, 2018/2019. [32p.] $7.99. 978-0-374-31210-7.
     Lucy is angry when Sparkle doesn't give her a Christmas present (because she thinks the holiday is all about gifts). Unfortunately, this story reinforces that concept, when Sparkle gives Lucy a box of rainbows. The color cartoon artwork is pleasant but the text is too long for the board format. 
Picture Books
Anon. Peppa Pig and the Christmas Play. Candlewick, 08/2019. [32p.] $12.99. 978-1-5362-0948-8.
Adapted from an episode of this British animated TV series, the simple story involves the school Christmas play – will Santa be able to attend or is he too busy? Mild tension in the plot and the flat but colorful digital illustrations make for a mediocre holiday picture book.
Bird, Betsy. The Great Santa Stakeout. Illus. by Dan Santat. Levine/Scholastic, 09/2019. [36p.] $17.99. 978-1-33816-998-0.
Freddy is obsessed with Santa, dressing like him for special occasions like birthdays, and collecting Santa toys. He devises a way to wake up when Santa arrives, so they can take a selfie together. The narrative is concise and humorous, and well-matched to the distinctive, deeply colored cartoon-like artwork, depicting Freddy with black hair and light brown skin. A nice choice for storytime or classroom read-aloud.
Carle, Eric. Christmas Cheer for the Grouchy Ladybug. Harper, 09/2019. [28p.] $9.99. 978-0-06-293226-6.
Carle's distinctive collage artwork will draw readers to this simple story. "Bah, Humbug" repeats the Grouchy Ladybug, despite the snow, carolers, tree, stockings, or gifts, until Santa arrives. The brief rhyming text makes this a great choice for toddler storytimes, especially to families who already know the Grouchy Ladybug character (Harper, 1977),
Fearnley, Jan. Little Robin's Christmas. Nosy Crow, 09/2019. [32p.] $16.99. 978-1-5362-0825-2.
Robin gives his sweater vests to other forest animals who are cold, but finds himself without one on a very cold night. Luckily, Santa gives him a red sweater vest, representing how robins earned the red feathers that distinguish them from other birds. The mixed media artwork adds humor with cartoonish facial expressions, and the sweaters are represented by textile collage elements. The narrative includes the names of the colors and counting elements, which add to the fun. A nice story about the virtue of generosity.
Larsen, Mylisa. Ho Ho Homework. Illus. by Taia Morley. Harper, 09/2019. [32p.] $17.99. 978-0-06-279688-2.
Ethnically diverse children wonder about their new teacher, Mr. Clausen, with his white beard; could he be Santa? One of his lessons is to make a paper snowflake and write a wish on it; the main character Jack wishes for snow. This would be a great book for a winter storytime because it is never determined if the teacher is Santa, and your audience could make their own paper snowflakes. There is a Christmas tree but not any religious symbols, making this appropriate for all schools and libraries. The watercolor artwork adds charm, too.
Litwin, Eric. Pete the Cat Saves Christmas. Illus. by James Dean. Harper, 2012/2019. [36p.] $9.99. 978-0-06-294516-7.
This new paper-over-board edition is aimed at home use, since it may not stand up to the demands of library circulation, but the story will be popular. Pete fills in for a sick Santa (who is also a cat), delivering gifts in his van pulled by reindeer. The repeated phrase "Give it your all, give it your all. At Christmas, we give, so give it your all" will engage the storytime crowd who can sing along. Dean's signature full color cartoon paintings bring the story to life; this is a winner but libraries will want the library binding edition.
Rowland, Lucy. Sammy Claws the Christmas Cat. Illus. by Paula Bowles. Harper, 09/2019. [32p.] $10.99. 978-0-06-295911-9.
Santa's cat wants to accompany him on his yearly gift-delivery outing, but ends up wrapped in a box, which allows Sammy to foil two robbers out to take Santa's gifts. The rhyming story is fun but a little long for most storytimes; this may be work best at home as a bedtime story. The full color cartoon artwork has lots of details to observe, too.
Schaefer, Lola M. The Bear and the Star. Illus. by Bethanne Andersen. Greenwillow, 09/2019. [36p.] $17.99. 978-0-06-266037-4.
"Bear woke and turned toward the horizon, to a new star…" describes how forest animals, and then human beings of all skin tones, gather together "because it was time for peace." The deeply colored oil illustrations depict a snow-covered forest and the rhythmic text is inviting, but overall most children may find this confusing. The focus on peace makes this for all religions (or no religion); Sunday school teachers may be the best presenters because they can help children interpret the story.
Tavares, Matt. Dasher. Candlewick, 09/2019. [40p.] $17.99. 978-1-5362-0137-6.
Before Santa had reindeer, a horse named Silverbell pulled the sleigh. A family of reindeer work at a circus but miss the North Pole; the youngest Dasher escapes and makes it to Santa's where she helps in the delivery. Santa rescues the rest of Dasher's family in this longer picture book that has grace and warmth. The full color watercolor and pencil artwork is expressive and adds to the straightforward text. This is too long for storytime or even a classroom read-aloud, but will be nice for families looking for more books like Van Allsburg's The Polar Express.
                               Penny Peck, SJSU iSchool