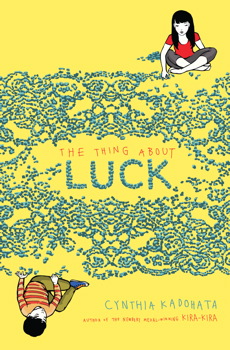 Kadohata Wins National Book Award
Cynthia Kadohata won the National Book Award, Young People's Literature category, for her novel The Thing About Luck (Atheneum, 2013). A story of a young girl and her brother who accompany their grandparents who travel from farm to farm for the wheat harvest in the Midwest features distinctive characters, and a Japanese-American family experience. Kadohota previously won the Newbery Medal for her novel, Kira-Kira (2004).  The 64th annual National Book Awards were given out on November 20, 2013 in New York City.  www.nationalbook.org/.
Lobel Exhibit at Contemporary Jewish Museum 
The Contemporary Jewish Museum, 736 Mission St., San Francisco, has a new exhibit celebrating the work of the late children's book author/illustrator Arnold Lobel. "Frog and Toad and the World of Arnold Lobel" runs from Nov. 21, 2013 to March 23, 2014. This exhibit features many hands-on, interactive elements to please children; the museum has also scheduled many special activities to draw in families to this exhibit, including free drop-in art classes every Saturday at 1pm. www.thecjm.org/on-view/upcoming/frog-and-toad-the-word-of-arnold-lobel/about.
Hands Around the Library Wins Arab American Book Award
The 2013 Arab American Book Award, Children/Young Adult division, was awarded to Hands Around the Library: Protecting Egypt's Treasured Books by Susan L. Roth and Karen Leggett Abouraya (Dial, 2012). Inspired by a true story from January 2011, this picture book describes how a group of protestors (including many students and library workers) surrounded the great library of Alexandria to form a human chain to protect the building and its priceless books. Awarded by the Arab American National Museum, Shatter Me by Tahereh Mafi (HarperCollins, 2012), a debut novel for teens, received an Honorable Mention. www.arabamericanmuseum.org/2013.book.award.winners#book4.