Fall Board Book Round-up, Part I
 New Individual Titles 
Hearn, Sam. Busy Builders. Scholastic Cartwheel, 2016. 12p. $10.99. 978-0-545-79957-7.     
Various animals wearing hard hats and safety vests are shown operating construction vehicles, including a bulldozer, forklift, cement mixer, and dump truck in this inviting board book. Their goal is to build a school, and the text describes the job of each vehicle.  The pages on the left are cut in unusual or notched shapes, but overall, the charming color cartoon illustrations are the most memorable part of the book. With a four-line rhyme per page, the text is a little longer than normal for a board book, but this should appeal to older preschoolers as well as toddlers, due to the subject matter.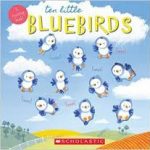 Ford, Emily. Ten Little Bluebirds. Illus. by Russell Julian. Scholastic/Cartwheel, 2016. 16p. $10.99. 978-0-545-79441-1.     
Die-cut holes that reveal the bluebirds are the stand-out feature of this charming counting story that invites audience participation. Beginning with ten birds, one by one they stay while the others go onto a new setting. Young children can practice counting backwards and join in on the repeated phrases in the rhyming text. Too bad only the word for each number is included and not the numeral. The full color artwork depicts both farm and forest animals in a natural setting. This oversized board book would be a hit at a baby or toddler storytime.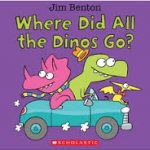 Benton, Jim. Where Did All the Dinos Go? Scholastic/Cartwheel, 2016. 18p. $7.99. 978-0-545-64789-2.
Bright, deeply saturated color cartoon illustrations stand out in this oversized board book from the author/illustrator of the "Dear Dumb Diary" series.  In this rhyming story, dinosaurs live among humans, sometimes dressed in clothing or driving a car. They love to play or eat ice cream just like kids do, and they are not frightening. Toddlers and preschoolers will enjoy this, although it doesn't name the dinosaurs.
Deneux, Xavier. ABC Touch Think Learn. Chronicle, 2016. 32p. $24.99. 978-1-4521-4503-7.      
Although this is a lovely and effective alphabet book, the expensive price and paper-over-boards binding preclude this from standing up to library circulation; it would make a nice gift book. Similar to Deneux's previous "Touch Think Learn" books but larger in size, this alphabet features many animals and things a preschooler will recognize. As the publisher described, the pages feature "raised die-cut pieces nestled in mirroring indented cut-outs, [and will] engage readers on both visual and tactile levels". Originally published in France in 2014, libraries may want this if they can reinforce the binding or use just in storytime. 
New Board Book Series 
Cocoretto. "Peekaboo!" series. Child's Play, 2016. 10p. each. $7.99 each. Peekaboo! On the Farm. 978-1-84643-864-6. Peekaboo! In the Jungle. 978-1-84643-866-0. Peekaboo! In the Ocean. 978-1-84643-867-7. Peekaboo! In the Snow. 978-1-84643-865-3.     
Various animals are shown with their paws over their eyes, asking "Peekaboo! Who's there?" Sturdy gate-fold board pages open on the right side of each spread to reveal which animal is playing peekaboo, in this creative series. The repeated phrases and guessing-game element will engage those attending toddler storytimes, and repeated readings at home will enhance memory skills. The deeply saturated color artwork shows each animal close-up, so many children will be able to identify each creature. Each animal is also identified with a verb describing their actions, which is a plus. A winner for libraries, the very sturdy board flaps will easily stand up to circulation.
Spanyol, Jessica. "All About Clive" series. Child's Play, 2016.  12p. each. $4.99 each. Clive and His Art. 978-1-84643-883-7. Clive and His Babies. 978-1-84643-882-0. Clive and His Bags. 978-1-84643-884-4. Clive and His Hats. 978-1-84643-885-1.     
Black-haired Clive and his ethnically diverse friends challenge gender stereotypes by playing with dolls and enjoying all types of activities in these sweet board books.  Playing with dolls is a key plot element of Clive and His Babies but in the other books he does other activities not generally part of the boy stereotype, including playing nurse or wearing costumes. The collage artwork puts the focus on Clive and his friends, with just a few other details in the illustrations, making this easy for toddlers to grasp what is pictured. Highly recommended for its diversity element.
Mathy, Vincent. "Who's Hiding?" series. Chronicle, 10p. each. $8.99 each. Who's Hiding with Penguin? 978-1-4521-5661-3. Who's Hiding with Tiger? 978-1-4521-5662-0. 
In this animal guessing game, each spread has a small cutout area on the border of one page, which reveals the animal on the next page. Unlike Cocoretto's "Peekaboo!" series discussed above, the "Who's Hiding?" series may frustrate kids because the picture clue is too small for most toddlers (the customary board book audience) to be able to guess the animal on the next page. The deeply saturated full color illustrations are amazing but the cutouts just don't do the job. The text names each animal, and then asks the reader to guess the next: "Whose cute ears are those?" Older children who are just beginning to read may be the best audience for this very sturdy series. 
Groves, Julia. "Animal Babies" series. Child's Play, 2016. 12p. each. $4.99 each. Animal Babies in the Forest! 978-1-84643-878-3. Animal Babies in the Meadow! 978-1-84643-879-0. Animal Babies in the River! 978-1-84643-880-6. Animal Babies on the Mountain! 
978-1-84643-881-3.
In Groves' first series, the UK author/illustrator depicts various animals and their offspring using a simple text: "swan cygnets" or "salmon fry." Both common animals ("goat kids") and unusual ("alpaca cria") are included, with the text in a font that resembles cursive and does not use capital letters. The artwork resembles prints but appears to be done using paint and ink, in naturalistic colors with a variety of solid color backgrounds. An unusual but lovely series of books to share with toddlers and preschoolers.
Burris, Patricia. "Count and Sing" series. Scholastic Cartwheel, 2016. 16p. each. $6.99 each. The Ants Go Marching, 978-0-545-82504-7. Five Green and Speckled Frogs, 978-0-545-82505-4.     
Two popular counting songs are turned into unsuccessful board books because they don't have the complete lyrics. A parent reading the book will need to know the song or he or she won't be able to fill in the needed rhyme. The full color cartoon illustrations with foil highlights are very well done but don't make up for the missing lines. Skip.      
New Entries in Popular Series Church, Caroline Jayne. "Lovemeez Books" series. Scholastic, 2016. 10p. each.  $7.99 each. I Love My Bunny. 978-0-545-83596-1. I Love My Robot. 978-0-545-83593-0.     
In these charming books, the child pictured describes his or her favorite toy: "Hi, I'm Henry, and I love my robot!" The text goes into why that toy is so beloved, but it is the artwork that is the main attraction. The soft pastel color cartoons depict the child's word along with tactile features, including flaps that open, a wheel that spins, a mylar mirror, a scratch and sniff cookie, and other elements that add a kinetic aspect to each story. Many toddlers can relate to these stories and will enjoy sharing these with a caregiver. The previous books, I Love My Dinosaur and I Love My Puppy, were published in 2015. Add these new titles if the previous books were popular. 
Ward, Sarah. Opposites. "Carry and Learn" series. Scholastic, 2016. 12p. $7.99. ISBN 978-0-545-79789-4. 
Opposites joins previous titles in this series, Colors, Numbers, and Shapes, all published in 2015. Each book has a built-in "handle," which is basically a hole in the board pages; each book also has tabs along the right side. In Opposites, various farm animals depict the concepts of big and little, over and under, up and down, etc. The text consists of just a few descriptive words, naming the animal and the two opposing concepts, along with a brief dialog balloon. The graphic cartoonish illustrations use soft pastel colors, and include some tactile features, such as the woolly lamb and felt horse. Although this is not particularly innovative it is serviceable and sturdy.
Penny Peck, San Jose State University iSchool