More Board Books arrived just as we were finishing last month's column, so here are more mini-reviews of new Board Books.
Single Titles:
Light, Steve. Diggers Go. Chronicle Books, 2013.  16p. $9.99. ISBN 978-1-4521-1864-2.
As the author did before in Trucks Go (2008) and Trains Go (2012), eight vehicles are shown alongside the sounds they make. For example, "The front loader goes, SKWEE BRRUMM BRRUMM SKOOOOOO SKOOOOO."   The book's unusual size is the same as his previous two, standing only six inches high, but measuring twelve inches wide – which means it is two feet wide when it is opened. This wide canvas gives the deeply saturated watercolor and black ink illustrations, on white backgrounds, the ability to make a big impact. Two spreads open vertically to show a forklift and a wrecking ball. The onomatopoetic words resemble woodcuts, making the entire package one that a wide age range will appreciate.
Series:
Deneux, Xavier. "Touch Think Learn" series, Chronicle Books, 2013. 18p. $14.99 each.
Colors, ISBN 978-1-4521-1726-3.
Opposites, ISBN 978-1-4521-1725-6.
Raised die-cut shapes fit into the facing page in this pricey series that probably won't hold up to library usage. In Colors, the book opens with an apple on the left, facing a cut open apple on the right, to demonstrate the color red. The only text is the word for the color, until the final page where the readers are asked their favorite colors. Opposites uses the same nestling die-cuts and one word text, but are not always successful in showing the concept: is the big tree really big, or are we just closer to the small tree?  These have a strong visual impact, so libraries may want to purchase if there is a big demand for board books.  There is also a Shapes entry in this series but not available to this reviewer.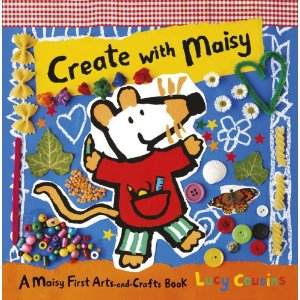 Cousins, Lucy. "A Maisy Concept Book" series. Candlewick, 2013. 12p. $6.99 each.
Maisy's First Numbers, ISBN 978-0-7636-6805-1.
Maisy's First Colors, ISBN 978-0-7636-6804-4.
Two new board books star Maisy, the little white mouse, who demonstrates different concepts. The rhyming text in the "Colors" book show Maisy and friends enjoying foods as examples of the colors – red apples, green pears, etc. In "Numbers," the rhyme describes various animals that Maisy sees. Both the numeral and word for the number are shown. Because the author uses examples that all toddlers will recognize, these are excellent introductions to these concepts.
Rouss, Sylvia A. Sammy Spider's First Book of Jewish Holidays. Illus. by Katherine Janus Kahn. "Sammy Spider Holiday" series. Kar-Ben Publishing, 2013. 10p. $5.95 each.  ISBN 978-1-4677-1916-2.
This very simple look at Jewish holidays gives one basic sentence per holiday: "On Yom Kippur we say we're sorry." The cut paper collage illustrations on white backgrounds add interest but not much information. The other titles in this series, which focus on individual holidays such as Sammy Spider's First Passover, would probably be more helpful to a preschooler.
Board Books Adapted from Picture Books:
Haughton, Chris. Little Owl Lost. Candlewick 2009/2013. 30p. $7.99. ISBN 978-0-7636-6750-4.
One of the best picture books of 2010, Little Owl Lost features an engaging story and dramatic deeply colored illustrations. A little owl is looking for his mother – is she the bear, rabbit, or frog?  Much of the book's humor is in the illustrations, so the larger picture book is better at conveying the characters' facial expressions. The board book version appears to contain all the words and pictures, just in a smaller size, so this is a nice gift book.  Libraries may want to stick with the picture book version since it is better for storytimes.
Thurlby, Paul. Paul Thurlby's Alphabet. Templar/Candlewick, 2011/2013.  28p. $9.99. ISBN 978-0-7636-6618-7.
Adapted from a picture book, this oversized board book is about the size of a beginning reader, and contains all of the text and illustrations of the original. Thurlby is a commercial illustrator, and the book's artwork has the look of 1950's advertising, and is done in red, brown, and light blue.  This may be best suited to children learning to read and not preschoolers, as many of the examples are concepts, not nouns. For example, P is for Pretty depicts a ponytailed girl, and F is for Fierce shows a growling lion. A graphically pleasing alphabet for a more advanced learner than the average ABC book.
Scheffler, Axel. Pip and Posy: the Super Scooter. Nosy Crow/Candlewick, 2011/2013. 24p. $6.99. ISBN 978-0-7636-6609-5.
One of at least five picture books featuring a rabbit and mouse who are best friends, The Super Scooter has been adapted into a board book containing the full text and illustrations of the original. Posy takes Pip's scooter for a try, but falls off and hurts her knee. The friendship dynamic is honest to a child's emotions – Pip is irritated that Posy didn't ask first – and the fact this is a boy-girl friendship is a plus. The brief text and saturated colors of the cartoonish illustrations is just right for the toddler and preschool audience. This works fine in the board book edition.
Patricelli, Leslie. Faster! Faster! Mas Rapido! Mas Rapido! Candlewick, 2012/2013. 28p. $6.99. ISBN 978-0-7636-6611-8.
If bilingual Spanish/English toddler books are in demand at your library, this will be a solid purchase. A little girl calls out the title phrase as she gets piggyback rides from her parents, then from several animals. Patricelli's original picture book was intended for very young children, so the board format is fine since it is for the same audience.  Also, all the illustrations and text are here, with the addition of  Spanish alongside the English.  The original had a very minimal text – basically the title is repeated over and over, so the additional Spanish doesn't take up too much room. The lush full color acrylic artwork tells the story with imagination, and are just as strong in this smaller version.
Penny Peck, San Jose State Univ., School of Library and Information Science