Board Book Round-up, Part III
Board Book Adapted from Picture Books
Atinuke. Baby Goes to Market. Illus. by Angela Brooksbank. 2017/2019. Candlewick. [26p.] $8.99. 978-1-5362-0552-7.
Set in Nigeria, baby accompanies mama to the market and puts fruit in mama's basket. This board adaption contains everything from the picture book, just in a smaller size. There is a counting element to the charming story (although no numerals are shown), and this would be fun for a baby storytime. This is a solid entry in the "picture book turned into a board book" category.
Joosse, Barbara M. I Love You the Purplest. Illus. by Mary Whyte. Chronicle, 1996/2019. [24p.] $9.99. 978-1-4521-7771-7.
Two brothers compete for their mother's attention in this relatable story illustrated with realistic watercolors. At one or two paragraphs per spread this is too long for the board book audience; the picture book edition is far better and well suited to preschoolers.
Klassen, Jon. I Want My Hat Back. Candlewick, 2011/2019. [32p.] $8.99. 978-1-5362-0757-6.
This Geisel Honor picture book works very well in this board version, offering the humorous tale of a bear looking for his missing hat. The wry humor and repetition of the tale make this a great choice for storytime, and the distinctive artwork helps to tell the story. Some parents may not like the ending, with clues that the bear may have eaten the rabbit who took the hat, but toddlers won't notice that detail.
Rinker, Sherri Duskey. Excavator's 1 2 3. Illus. by Ethan Long. Chronicle, 2019. [20p.] $6.99. 978-1-4521-5316-2.
Rinker, Sherri Duskey. Bulldozer's Shapes. Illus. by Ethan Long. Chronicle, 2019. [20p.] $6.99. 978-1-4521-5321-6.
Although the texts of these two small board books are original, they were inspired by Rinker's "Good Night, Good Night, Construction Site" series of books, and the original artwork by Tom Lichtenheld. In Excavator's 1 2 3, Various construction site vehicles are shown in action in this rhyming counting story. In Bulldozer's Shapes, eight shapes are shown in the dirt. Both books are adequate in showing the concept, but the stories seem geared toward vehicle fans only.
Sesame Street. Just One You. Sourcebooks Jabberwocky, 2015/2019. [28p.] $12.99. 978-1-4926-7139-8.
This oversized board book is almost the same size as the original picture book and is aimed at parents and children to read together. Each spread features a character from TV's "Sesame Street," and celebrates self-esteem. Along the margins are questions for the adult reader to ask the child, such as "What color flowers do you see?" to engage in dialogic reading. There isn't really a story and the message is obvious, but it accomplishes the book's goal.
Tullet, Hervè. Press Here.
Handprint/Chronicle, 2011/2019. [46p.] $8.99. 978-1-4521-7859-2.
This board edition of the popular interactive picture book will work well for one-on-one reading; parents will appreciate the board version. The reader is asked to press, shake, and blow on the various colored dots shown on the white pages. The original is best for storytime use but this edition is good for extra circulating copies.
Bilingual English/Spanish Board Books
Horacek, Petr. Beep Beep Piip Piip. Candlewick, 2008/2019. [14p.] $6.99. 978-1-5362-0350-9.
Horacek, Petr. Choo Choo Chuu Chuu. Candlewick, 2008/2019. [14p.] $6.99. 978-1-5362-0351-6.
Vehicles are celebrated in these two bilingual books with die-cut pages and deeply colored collage illustrations. The text on each spread is in English and in Spanish, describing trips in cars and in trains, using onomatopoeia. Very lively, these are great for both English and Spanish speakers.
Informational Board Books
Barry, Frances. Caterpillar to Butterfly: Fold Out and Find Out. Candlewick, 2019. [20p.] $11.99. 978-0-7636-4261-7.
In this unusual book, a rhyming text introduces facts about the life cycle of a butterfly, with more information on the final page. But it is the collage artwork and book design that stand out – the pages unfold like petals. This would pair well with Carle's classic The Very Hungry Caterpillar, and work well for a storytime.
Rogge, Hannah. Hello Honeybees: Read and Play in the Hive! Illus. by Emily Dove. Chronicle, 2019. [14p.] $11.99. 978-1-4521-6892-0.
When opened, this board book is shaped like a beehive, and contains two bees that are attached by ribbons who "fly" into each spread. The narrative describes factual aspects of honeybees but often simplifies things to the extreme and can be misleading. The bees are likely to tear from the ribbons, so this probably won't hold up to library usage.
Board Books with Flaps
Arrhenius, Ingela P. Where's the Duck? Nosy Crow, 2019. [10p.] $8.99. 978-1-5362-0577-0.
Felt flaps and sturdy pages make this charming seek-and-find book on pond animals a fun addition to the series. With at least a dozen of these simple guessing game board books, the latest entry will be equally as successful. The bright colors, graphic design, and text made up of questions such as "Where's the worm?" make this perfect for very young readers. Great for baby storytime and one-on-one reading.
Boyd, Lizi. Hide-and-Sleep: A Flip-Flap Book. Chronicle, 2019. [18p.] $12.99. 978-1-4521-7096-1.
A simple repetitive text asks the reader to see "who is hiding" in each spread (often it is the rabbit). The book design is what is memorable about this tall and narrow board book. In the first half of the story, the right page is divided in half in every other spread. But that doesn't really add anything to the story; there is no mystery or hidden animal. The animals are getting ready to sleep. The artwork is well done but overall the story and flap device isn't really impactful.
Murphy, Mary. Picken. Candlewick, 2019. [28p.] $8.99. 978-0-7636-9730-3.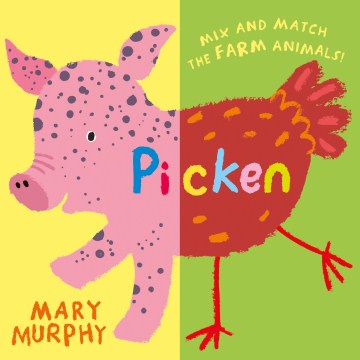 Originally published in the UK in 2017, this is subtitled "Mix and Match the Farm Animals!" and is a follow-up to Crocopotomus (2016). The book opens like two window shutters, showing a farm animal, such as a calf. Open the next two pages and there is lamb, but if you open just one side then you get "new" animals created with the head of one, and the backside of another. This premise has been done before but the artwork is fun, and the text is made up of just the animal name. Sure to be popular if not overly original.
Penny Peck, San Jose State University iSchool