New Entries in Popular Series
Anon. We Wish You a Merry Christmas. Illus. by Yu-hsuan Huang. Nosy Crow, 09/2017. [10p.] $8.99. 978-0-7636-9612-2.     Animals dressed in winter clothing are shown playing in the snow, and the text contains the lyrics to the popular Christmas carol. The sliders and wheel offer interactivity and are sturdy, making this a good choice for library circulation. The colorful cartoonish illustrations may be too detailed to carry to a group at storytime, but this is nice for parents to read to a child. Readers can either download the song or use the QR code to hear it, in case they don't already know the tune.
Arrhenius, Ingela P. Where's the Owl? Nosy Crow, 10/2017. [10p.] $8.99. 978-0-7636-9639-9.   As with the previous books in this series, the large flaps are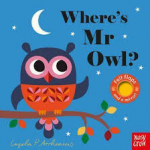 made of felt, and will hold up to library use. Four different forest animals are introduced (deer, fox, hedgehog, and owl), using the repeated phrase "Here it is!"  The final spread reveals a mylar mirror to show "And where are you?" which was used in previous books. Not very substantial; the Braun series (below) is much better, offering more information yet appealing to the same age range.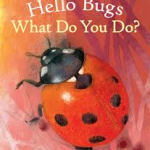 Botman, Loes. Hello Bugs, What Do You Do? Floris, 2017. [12p.] $9.95. 978-178250-383-5.   Third in Botman's series of animal fact books for the youngest, this focuses on insect activities. Each page is captioned with a verb – scurry, flutter, buzz, etc., describing what the pictured insect is doing. No where does it name the insect; the adult reader will need to point out the pictured ant, moth, or bee. The full color illustrations, which appear to be done using pastel chalks and pencil, are very realistic.  
Braun, Sebastien. Can You Say It, Too? Brrr! Brrr! Nosy Crow, 09/2017. [10p.] $8.99. 978-0-3676-9622-1.   Arctic and Antarctic animals are featured in
Braun's latest lift-the-flap guessing game board book. "Who's that beside the iceberg?" – lift the large flap and see the penguin. Each hidden animal is named, along with a sound phrase like that of the title, so this is a great way to introduce onomatopoeia. The flaps are quite sturdy and should hold up to library usage. Plus, this is a fun way to introduce animals that live in the snow. Perfect for a baby storytime, as the full color illustrations are fairly large for a board book.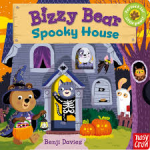 Davies, Benji. Bizzy Bear: Spooky House. Nosy Crow, 07/2017. [8p.] $6.99. 978-0-7636-9327-5.   With more than a dozen titles and a million copies sold, it is clear Bizzy Bear is a popular character, and the tabs, sliders, and wheels used in these sturdy books add fun and interactivity. Here, Bizzy visits a haunted house that is the location of a Halloween party with other animal friends. The full color cartoonish artwork and the "Pat-a-Cake" like rhyming text is a perfect fit for babies and toddlers.  
Drescher, Daniela. Pippa and Pelle in the Summer Sun. Floris, 03/2017. [12p.] $9.95. 978-178250-379-8.   Originally published in Germany in 2016, this is
the third "Pippa and Pelle" board book, with two further adventures being published soon. They all focus on two troll-like siblings who are the size of a rooster, and live in a forest. Each book focuses on the duo enjoying the season; here it is summer and they enjoy the warm weather and observe the animals. But with a paragraph in small font on each page, this isn't really suited to the board book audience and not much happens in the story. The watercolor artwork is quite charming, and would be suitable for a picture book for preschoolers. 
Idle, Molly. Flora and the Ostrich: An Opposites Book. Chronicle, 09/2017. [20p.] $9.99. 978-1-4521-4658-4.   Opposites is the focus of the latest board book starring Flora, the young dancer first introduced in the Caldecott Honor picture book, Flora and the Flamingo (2013). Similar to earlier board book entries in the series, including Flora and the Chicks (2017), every other spread features a gatefold page that opens to show a larger illustration. With just the two purple-clad title characters set on white backgrounds, the illustrations are distinctive, and the text is made up of just the words describing the opposites, such as "front … back" or "under…over." This is effective in teaching the concept and great for the toddler audience.  
Patricelli, Leslie. Fa La La Tra-La-La. Candlewick, 10/2017. [26p.] $6.99. 978-0-7636-9524-8.   Originally published in English in 2012, this new bilingual
Spanish/English edition will meet the need for Christmas books for babies. Patricelli's delightfully bald baby celebrates the holiday by picking out a tree, visiting Santa, singing carols, and opening gifts. The full color illustrations are full of energy and humorous details, and the story is one with which many will identify.  
Spiro, Ruth. Baby Loves Quantum Physics! Illus. by Irene Chan. Charlesbridge, 09/2017. [20p.] $8.99. 978-1-58089-769-3.  
Spiro, Ruth. Baby Loves Thermodynamicss! Illus. by Irene Chan. Charlesbridge, 09/2017. [20p.] $8.99. 978-1-58089-768-6.   Spiro follows up her two earlier books on physics for babies (Baby Loves Aerospace Engineering! and Baby Loves Quarks!, both 2016) with two similar books that are simple but will need a parent to explain the titles. In Therodynamics, a baby likes the warmth of the sun, and the narrative explains that the sun helps trees grow; "All living things get their energy from the sun." Toddlers will naturally ask "why?" so the parent will need to explain the process.    In Quantum Physics, baby plays with the cat who hides in a box; "In quantum physics, until baby looks in the box, Cat is both asleep and awake." Parents may know of the Schodinger's Cat theory (which is not mentioned by name), but it really won't make sense to a child.   This is the type of book the characters on TV's "The Big Bang Theory" would give as a baby shower gift; this series is probably more for scientists to give to each other than for toddlers to enjoy, although the full color artwork has a nice graphic quality.
Penny Peck, San Jose State University iSchool