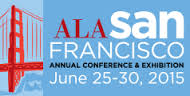 ALA Conference in San Francisco – Reports from Our Members:
The ALA Conference in San Francisco kicked off big-time on Friday with the news of the U.S. Supreme Court's decision on marriage equality. The positive vibe continued throughout the four days of meetings, workshops, luncheons, and speeches. Everyone was in a celebratory mood! Below are some of the highlights:
New Immigrants, New Approaches: Here in the Bay Area, many of our libraries serve more immigrant families than non-immigrant, so this workshop was a perfect fit. It is especially important that we make everyone feel welcome in our libraries, to counter the remarks by some politicians about "illegals." One resource that you will want to keep handy is this list of websites that offer booklists and other advice for serving new residents: www.imyourneighborbooks.org/resources/ . At the top of the site, click on Browse Book List for titles.
The Raising of America: PBS has a new documentary that it will be airing entitled "The Raising of America: Early Childhood and the Future of Our Nation." Of course, libraries have known that very young children need education before they even begin Kindergarten, and our storytimes and other programs try to help in those efforts. Check out the website for the documentary here: www.raisingofamerica.org/ .
Babies Need Words Every Day: So much data shows that very young children need to build up their vocabularies before they begin school, and that children in lower income families often have lower rates of vocabulary acquisition. ALSC has a new effort to help with "Babies Need Words Every Day," emphasizing things parents can do. Check out this website for posters, booklists, and other resources: www.ala.org/alsc/babiesneedwords . Libraries can use this information in their publicity to increase attendance at storytimes, and to help fund expansion of their storytime schedules.
ALSC Blog: For more reports on the wealth of programs for children's librarians, check out the ALSC Blog – www.alsc.ala.org/blog/ . In fact, be sure to look at the blog for Lisa Nowlain's cartoons on the workshops she attended; her cartoon assessment of the We Need Diverse Books program is genius! www.alsc.ala.org/blog/2015/06/wndb-talk-to-action-at-alaac15/ .
Children's Book Awards Acceptance Speeches: If you were unable to attend the
ALSC Newbery/Caldecott Banquet or the speeches for other awards, check out the speeches here – www.ala.org/alsc/awardsgrants/2015speeches .
ALSC Presconference on Honor Books: Congratulations to Carla Kozak of the San Francisco Public Library for chairing the first (and hopefully not the last!) Preconference on ALSC Honor Books. This year's theme was "Distinguished and Diverse," celebrating the cultural diversity, as well as the various formats and types of books selected as Honor books this year. The half-day event had several panels, including Honor book authors whose books were memoirs, including Jacqueline Woodson, Jillian Tamaki, and Cece Bell. The phenomenal K.T. Horning kicked off the conference with a delightful keynote speech filled with fun facts about the various ALSC book awards, and Judy Freeman talked about how to bring picture books to life with songs, props, and puppets. During lunch, the ever-popular Trivia Contest was held; below are the questions (with the answers posted in the comments section).
ALSC AWARDS TRIVIA QUESTIONS 2015:
Who is the most honored Geisel Award author, with two wins and five honors?
Who is the only person to be named a Newbery Medal winner and a Newbery Honor recipient in the same year?
Which illustrator has the highest combined number of Caldecott Medals and Honors?
Name the author/illustrator who received a Caldecott Honor and a Newbery Honor for books in the same series.
Nancy Willard earned a Newbery Medal for A Visit to William Blake's Inn in 1982; that same year who received a Caldecott Honor for the illustrations?
Name one of the two graphic novels named a Sibert Honor book since the award's inception.
Name the author/illustrator to earn a Caldecott Honor (in 1976), a Newbery Honor (in 2000), and the 2011 Laura Ingalls Wilder Award.
Which illustrator received a Caldecott Honor seven times (holding the record)?
Everyone knows Laura Ingalls Wilder has the most Newbery Honors with five, but can you name one of the four people who have earned four Newbery Honors?
Name the author/illustrator who received Caldecott Honors the first two years of the award's existence, and is also the only person to have earned both a Newbery Medal and a Caldecott Medal?
Name the author of the first Geisel Award winner, who previously wrote two Caldecott Honor books, and one Newbery Honor book (and one Newbery Medal winner).
What photographer has earned three Sibert Honors and one Sibert Award?
Having received three Newbery Honors, who is the only author to win both a Newbery Medal and a Sibert Medal?
Which author/illustrator received three Caldecott Honors, the Laura Ingalls Wilder Award, and the Pulitzer Prize?
Which two-time Newbery Honoree quoted Sly and the Family Stone in his Newbery Medal acceptance speech, saying "Thank You (Fallettinme Be Mice Elf Again)?"
Which ALSC Award had no winners or honor books in 1978 or 1993?
This Caldecott Medalist holds the record for most Pura Belpre Illustrator Honors with four. Name this illustrator.
Penny Peck, San Jose State Univ. iSchool