One of the most popular storytimes we do each year at my library is Pizza Day. You can make this a party, and serve pizza, or just do the stories and a craft. A simple pizza craft takes one paper plate. Then, the kids cut out red circles (pepperoni), yellow rectangles (cheese), and green triangles (bell pepper), and glue them on the plate to make a pizza. This craft helps reinforce the concept of the easier shapes.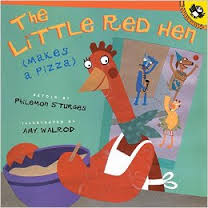 Walters, Virginia. HI PIZZA MAN!    Kids will call out the repeated phrases in this simple but entertaining book.
Sturges, Philemon. THE LITTLE RED HEN MAKES A PIZZA.    Unlike the original story, this little red hen shares her pizza with the pals who refused to help make it.
Steig, William. PETE'S A PIZZA.    Pete and his dad have a great game where dad pretends to make Pete into a pizza.
Maccarone, Grace. PIZZA PARTY.    In this simple easy reader, a group of kids make a pizza.
Herman, Gail. PIZZA CATS.    Three stray cats take over a pizza parlor.
Auch, Mary Jane. THE PRINCESS AND THE PIZZA.    To win the prince, a practical princess must pass a series of tests, which include cooking a pizza.