Younger preschoolers seem to make up the dominant group at most of our storytimes so many of our favorite Halloween stories are too scary. Here are some "Not So Scary" picture books you can use for a Halloween storytime. For an activity, you can make paperbag puppets based on Emberley's Go Away, Big Green Monster! Just trace the die-cut holes for the various parts of the face. Or, you can make paperbag versions of Mo Willems' Leonardo the Terrible Monster.
Reiner, Carl. TELL ME A SCARY STORY …BUT NOT TOO SCARY!   Grandpa tells a little boy about the neighbor and a marble that looks like an eyeball.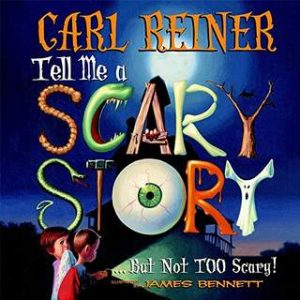 Hayes, Sarah. THIS IS THE BEAR AND THE SCARY NIGHT.    Told in the same rhythm as "The House That Jack Built," a teddy bear is left in the park and goes through several adventures before he is returned to his owner.
Howard, Arthur. HOODWINKED.    A little witch wants a pet that is scary, but not too scary.
Stevenson, Harvey. BIG, SCARY WOLF.    Dad convinces Rose, who can't sleep because of the shadows in her room, that the shadows can't be a wolf.
Rueda, Claudia. LET'S PLAY IN THE FOREST WHILE THE WOLF IS NOT AROUND.    Based on a traditional song from Europe, a group of children play while a wolf gets dressed.
Emberley, Ed. GO AWAY BIG GREEN MONSTER!    A great book for empowering toddlers to not be afraid. As each page is turned, another part of the monster disappears. For more fun, you can purchase a hand puppet with removable parts which is based on this book.
Willem, Mo. LEONARDO THE TERRIBLE MONSTER.    Leonardo is terrible at being a monster – he is not the least bit scary!
Crow, Kristin. BEDTIME AT THE SWAMP.    With a repeated phrase that will appeal to listeners, a boy and his cousins try to outrun whatever is making those sounds in the swamp – until mom tells them to come inside for bathtime.