Along with hibernation, bird migration is a topic preschoolers learn about in the Fall. For an activity, make bird feeders out of pinecones, or make paper Robins.
Berne, Jennifer. CALVIN CAN'T FLY.    A starling reads books instead of flying south with his cousins.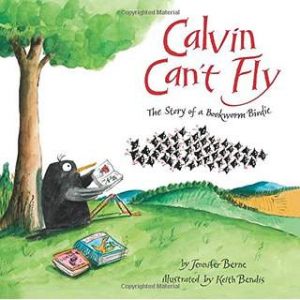 Hills, Tad. HOW ROCKET LEARNED TO READ.    A little bird teaches a dog how to read, then flies away for the winter.
Harris, Sue. THE LITTLE SEAL.    A harp seal migrates south with his mother, but misses his friends back home.
Johnson, Amy Crane. LEWIS CARDINAL'S FIRST WINTER.    Lewis is reluctant to migrate until Solomon Raven explains why he must.
Kent, Jack. ROUND ROBIN.    Round Robin is too plump to fly south so he must walk in this cartoon-like picture book..
Meddaugh, Susan. TREE OF BIRDS.    Harry finds an injured bird named Sally. The other birds won't fly south without Sally, so Harry must find a way to make sure they don't freeze in the winter.
O Flatharta, Antoine. HARRY AND THE MONARCH.    Harry the tortoise befriends a monarch butterfly who stops in Texas on its way from Canada to Mexico.
Sockabasin, Allen. THANKS TO THE ANIMALS.    Set in Maine and reflecting Passamaquoddy culture, a baby falls off the bobsled heading south for the winter, but his father walks back to find him.
Wild, Margaret. LUCY GOOSEY.    Lucy is having so much fun she doesn't want to leave with it is time to migrate with the other geese.
Wolff, Ashley. A YEAR OF BIRDS.    Children learn about the months of the year and various types of birds.
Also see the previous Hibernation and Migration storytime ideas page from October 2002.