Whether you are doing a Community Helpers unit, or just want to have a fun storytime, the Mail Worker theme is one lots of preschoolers can relate to since it is a person they see every day. For a craft, kids can write to a grandparent or other relative. Provide colorful postcards donated by staff, or have the kids make their own.
Fingerplay: 5 Little letters lying on a tray, Mommy came in and took the 1st away. Then Daddy said, "This big one is for me." I counted them twice, now there were 3. Brother Bill asked, "Did I get any mail?" He found one and cried, "A letter from Gail!" My sister, Jane took the next to last, And ran upstairs to open it fast! As I can't read, I'm not able to see, Whom the last one's for, but I hope it's for me!
Scott, Ann Herbert. HI! A small child says "Hi!" to everyone in line at the post office.
Kightley, Rosalinda. THE POSTMAN. Rhyming tale of a mail carrier going around the city.
Carter, Don. SEND IT! Cut paper collages show a mailman on his route.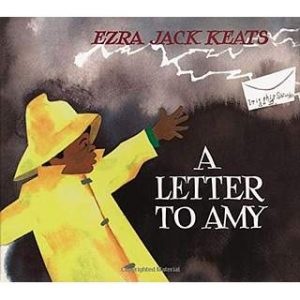 Ahlberg, Jane and Allan. THE JOLLY POSTMAN. Packed with letters and foldouts, fairy tale characters correspond with one another.
Cynthia Rylant. MR. GRIGG'S WORK. Neighbors fill in for the post master when he is sick with the flu.
Keats, Ezra Jack. A LETTER TO AMY. The boy from PETER'S CHAIR and THE SNOWY DAY sends a birthday party invitation to his friend Amy.
Poydar, Nancy. MAILBOX MAGIC. A boy sends away for a special cereal bowl.
Kent, Jack. JOEY RUNS AWAY. The postman delivers Joey back to his mom after he runs away.
Wells, Rosemary. BUNNY MAIL. Max sends Santa a request for a bike, while sister Ruby plans a July 4th parade. Grandma receives letters from each of them.