Thanks to Pam Carlson from the Long Beach Public Library, CA
Make copies of some clip art bugs, then decorate with gold glitter to make Fireflies. Make a mobile based on Eric Carle's THE VERY LONELY FIREFLY, by making copies of a lantern, light bulb, candle, and car headlights as well as a bug, then cut them out and attach to strings hanging from a clothes hanger. Or, do a "Lightning Bug" game with a flashlight – the kids try to "pounce" on the light from a flashlight. Lead a sing-along to the songs "Firefly" by Tony Bennett, and "Glow Little Glow-worm" by the Mills Brothers. Those titles marked T will be suitable for a Toddler Storytime as well as the traditional preschool storytime.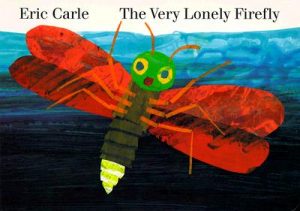 Carle, Eric. THE VERY LONELY FIREFLY. T One night, a lonely firefly goes out in search of other fireflies.
Sturges, Philemon. TEN FLASHING FIREFLIES. T A counting book that also encourages children to let fireflies go free.
Eastman, P.D. SAM AND THE FIREFLY. Sam the owl befriends a firefly in this classic easy reader.
Burke, Katie. LIGHTNING BUG THUNDER. Three friends have a lightning bug in a jar, hoping the lightning attracts thunder during a drought.
London, Jonathan. FIREFLIES, FIREFLIES, LIGHT MY WAY. T In this chant celebrating nature, the repeated phrase "Lead me to the place…" will engage even young listeners.
Waber, Bernard. A FIREFLY NAMED TORCHY. Unlike his usual "Lyle Crocodile" cartoon illustrations, Waber has illustrated this story with fingerpaints. Torchy's light is so bright it disturbs the other forest creatures.
Penny Peck, San Leandro Public Library