A clay play storytime can reach a wide age range – younger preschoolers can use blobs of playdoh to make simple forms, and older kids can make simple pinch pots. You can also use a rolling pin and cookie cutters for kids to make playdoh shapes. Go to Hasbro's Teaching Tools for more activities.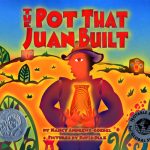 Andrews-Goebel, Nancy. THE POT THAT JUAN BUILT. A cumulative rhyme about a potter who lives in Mexico.
Winter, Jeannette. JOSEFINA. A counting book celebrating a real-life Mexican artist who paints clay figures.
Baylor, Bird. WHEN CLAY SINGS. A celebration of the Native American Indians of the Southwest and their pottery. Too long for storytime, you can show the pictures and describe what is happening.
Jameson, Cynthia. CLAY POT BOY. Similar to The Gingerbread Man, an old man and woman make a boy out of clay, who comes to life.
Ginsburg, Mirra. THE CLAY BOY. A different version of the Russian folktale mentioned in Clay Pot Boy, this has large illustrations that will appeal to the crowd.