Some preschoolers may know a little bit about a Caribbean country, if they have friends from the area, or if they heard about the earthquake in Haiti. Some may even go there on vacation! But too many can only think of the "Pirates of the Caribbean" movies. So a fun introduction to the countries of the Caribbean can be a great storytime theme. For a craft activity, you can make drums out of coffee cans or oatmeal boxes. If your group is made up of older preschoolers, they could do a limbo dance/game which originated in Trinidad.
Adoff, Arnold. FLAMBOYAN.    Set in Puerto Rico, this longer rhyming picture book features a girl who can fly.
Carlstrom, Nancy. BABY-O.    In this cumulative story, a family takes their wares to market. The storytime listeners will call out the repeated phrases.
Garne, T.S. ONE WHILE SAIL.    The numbers one through ten are demonstrated with island items such as a sail, clouds, or boats, with folkart-style paintings and a rhyming text.
Gershator, Phillis. RATA-PATA-SCATA-FATA.    Torn paper collages illustrate this tale of a boy in St. Thomas, who repeats the title phrase whenever his mother asks him to help with a chore.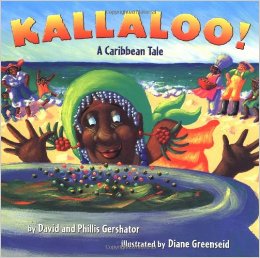 Gershator, Phillis. SWEET, SWEET FIG BANANA.    Set in Haiti, a young boy grows a banana tree.
Gershator, Phillis. KALLALOO!    A West Indian version of "Stone Soup," in which a shell is used to start the pot of soup.
Faustin, Charles. A CARIBBEAN COUNTING BOOK.    Deeply saturated colors illustrate this collection of counting rhymes from several Caribbean countries.
MAMA, ACROSS THE SEA.    A little girl lives with her grandparents on an island, because her mother works on the mainland. A poignant tale about missing a parent.
Lessac, Frane. MY LITTLE ISLAND.    Lessac shows his childhood on the island of Monserrat in this popular "Reading Rainbow" book.
Isadora, Rachel. A CARIBBEAN DREAM.    Watercolor paintings and a rhyming text show island children swimming, playing, etc.
Williams, Karen Lynn. CIRCLE OF HOPE.    A boy plants a tree and hopes it will grow, in this story set in Haiti.