Many of us read Eric Carle's THE VERY HUNGRY CATERPILLAR on a regular basis for storytime. Use that as the foundation of a whole storytime on butterflies. For a craft, one of the simplest projects is a butterfly made from a coffee filter. Use watercolor paints to decorate the coffee filter (the filter paper causes the paint to run and looks beautiful). Then, use a pipecleaner to a cinch the coffee filter in the middle to form the wings, and curl the ends of the pipecleaner to form antennae.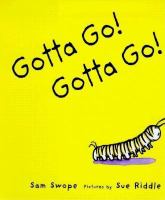 Those titles marked T will be suitable for a Toddler Storytime as well as the traditional preschool storytime.
Carle, Eric. THE VERY HUNGRY CATERPILLAR. T   Listeners will chant the days of the week, the food items, and the repeated "but he was still hungry!" when reading this storytime classic.
Swope, Sam. GOTTA GO! GOTTA GO!   A little caterpillar knows she needs to get to Mexico, but doesn't know that is she is going to become a Monarch Butterfly.
Brawley, Helen. PERCIVAL THE PLAIN LITTLE CATERPILLAR.   A book about colors that has a great story about how a caterpillar becomes a butterfly.
Millbourne, Anna. THE BUTTERFLY.   Lovely soft watercolors illustrate this very simple look at a butterfly's life cycle.
Edwards, Pamela Duncan. CLARA CATERPILLAR.   An ususual story about a cream-colored, plain butterfly, who finds out she is just as good as the colorful butterflies.
Kroll, Virginia. BUTTERFLY BOY.   Set in Mexico, a boy and his grandfather look for butterflies.
Horacek, Petr. BUTTERFLY, BUTTERFLY.   Lucy's garden is full of various insects, including butterflies.
Tartt, Debbie. TEN WRIGGLY, WIGGLY CATERPILLARS. T   Pop-ups and 3-D elements highlight this counting book.
This storytime was developed in conjunction with the 2008 Summer Reading Program, "Catch the Reading Bug."