Need a quick and easy "special" story hour for the summer? One of my favorites is "Bubble" storytime, where each child receives a simple dime-store bottle of bubbles at the end of the program. Always a big hit and inexpensive, this program is easy to prepare. Besides the giveaway bubbles, I make large bubbles with soap and extra-large bubble wands made out of wire. For an art project, you can have the children "paint" bubbles with watercolor paints and paper with an outline of a bathtub on it. Here are some suitable stories with bubbles: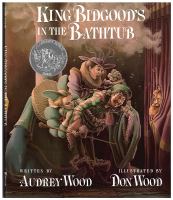 Anderson, Peggy. TO THE TUB.   In this sequel to Time for Bed, the Babysitter Said, froggie won't take his bath.
Brown, Margaret Wise. THE DIRTY LITTLE BOY.   A new, illustrated version of Wise's story, where a little boy copies the bathing practices of various animals.
Hulme, Joy. BUBBLE TROUBLE.   This brief " Rookie Reader" describes all types of bubbles.
Kudrna, C. I. TO BATHE A BOA.   It's a struggle to bathe any pet, especially a boa constrictor.
Sutherland, Harry. DAD'S CAR WASH.   Dad makes bathtime fun when he pretends it is a car wash for kids.
Wood, Audrey and Don. KING BIDGOOD'S IN THE BATHTUB.   A fun, repetitive story about the royal bath.
Woodruff, Elvira. SHOW AND TELL.   Andy brings magic bubbles for show and tell.
Woodruff, Elvira. TUBTIME.   Two sisters share an unusual bubble bath full of animals.
Ziefert, Harriet. NO BATH TONIGHT!   A little boy stalls at bathtime by wondering if various animals are hiding in the bath.