Naming the parts of the body is an important kindergarten concept, which is easy to add to storytime with the books listed below as well as the songs Head and Shoulders, Where Is Thumbkin?, and The Hokey Pokey. For a craft, make tissue paper collages similar to the illustrations in Eric Carle's From Head to Toe. You can also make simple skeletons by gluing Q-Tips to black paper.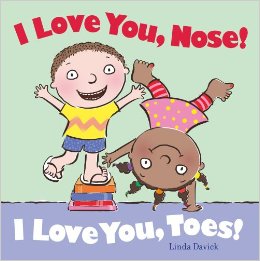 App: The Human Body, Tinybop.
Adler, Victoria. ALL OF BABY, NOSE TO TOES. A baby discovers various parts on the body in this simple, joyful book.
Arnold, Tedd. PARTS. A boy thinks his body is falling apart after he loses a tooth.
Bauer, Marion Dane. THANK YOU FOR ME! Children celebrate body parts that can clap, eat, and perform other important tasks.
Carle, Eric. FROM HEAD TO TOE. In this repetitive book, the audience will repeat the body movements done by the animals in the story.
Chandler, Susan. WHAT I DO WITH VEGETABLE GLUE. In this silly story, a girl's body parts start to fall off because she won't eat her vegetables.
Davick, Linda. I LOVE YOU, NOSE! I LOVE YOU, TOES! The rhyming text and colorful illustrations celebrate the parts of the body, depicting ethnically diverse children.
Hindley, Judy. EYES, NOSE, FINGERS, AND TOES: A FIRST BOOK ABOUT YOU. A simple rhyming text celebrates the parts of the body.
Martin, Bill. HERE ARE MY HANDS. Children of various ethnicities celebrate what their bodies can do.
Also see the previous Body Parts storytime ideas pages from July 2005.