You can focus your storytime on specific African countries, or include a variety of regional folklore. For a simple drum craft, shown here, all you need are two paper cups, some masking tape, and brown paint.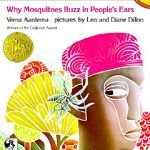 Aardema, Verna. BRINGING THE RAIN TO KAPITI PLAIN.    In this cumulative tale, a boy shoots an arrow into the clouds to start the rain.
Aardema, Verna. WHY MOSQUITOS BUZZ IN PEOPLE'S EARS.    Animal sound effects will inspire the kids to participate in this folktale about gossip.
Feelings, Tom and Muriel. JAMBO MEANS HELLO.    An alphabet book that celebrates Swahili, and helps preschoolers learn some of the culture of Kenya.
Feelings, Tom and Muriel. MOJA MEANS ONE.    A counting book companion to Jambo Means Hello. Available in a Big Book edition.
Javaherbin, Mina. GOAL!    Set in modern South Africa, boys play soccer and outwit and outplay some bullies who want to take away their ball.
Joosse, Barbara. PAPA DO YOU LOVE ME?    A Maasai father reassures his young son that he loves him.
Kimmel, Eric. ANANSI AND THE MAGIC STICK.    Anansi steals the magic stick to help with chores, but he cannot get it to stop after he asks it to water the garden, causing a flood.
Lexau, Joan. CROCODILE AND HEN.    Hen reminds crocodile they are cousins, because they both lay eggs.
MacDonald, Margaret Read. MABELA THE CLEVER.    A mouse uses all her senses to outwit a cat, in this story with repetition to engage the audience.
McDermott, Gerald. ZOMO THE RABBIT.    The Nigerian tale of the trickster rabbit who must perform three acts to gain wisdom.
Williams, Karen. GALIMOTO.    A tale of modern Africa, with a boy who collects wire to build himself a toy vehicle. A Reading Rainbow book.