Jazz 
LIBRARIES ROCK! is the 2018 summer theme for the Cooperative Summer Library Program: www.cslpreads.org/. For libraries using the music-themed summer reading/learning program, BayNews will offer sound and music storytime outlines between now and June.
A fun all-ages storytime theme focuses on jazz – there are a surprising number of picture books celebrating this American art form. Be sure to play some recorded jazz music while doing the arts and crafts.  Make these glittery trumpet pictures: www.paper-and-glue.com/2015/02/a-jazzy-little-preschool-lesson.html .  Or, make simple noisemakers out of cardboard tubes: www.education.com/activity/article/new-years-noisemakers/ .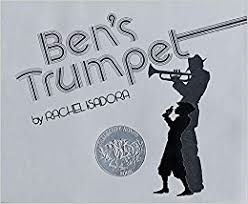 Black, Michael Ian. Cock-A-Doodle Doo-Bop! Rooster and the other farm animals try to wake the sun with some jazz versions of their usual sounds, including a scat improvisation.
Ehrhardt, Karen. This Jazz Man. In this reinterpretation of the classic song "This Old Man," various real-life jazz musicians are included.
Gordon, Gus. Herman and Rosie. Two neighbors like different things but come together over music in this delightful story.
Howarth, Kylie. Fish Jam. A scat-singing fish tries to make friends.
Isadora, Rachel. Ben's Trumpet. In this Caldecott Honor book, Ben wants to be a jazz musician and play the trumpet.
Jennings, Patrick. Bat and Rat. Two best friends play in a jazz band together in the big city.
Marsalis, Wynton. Squeak, Rumble, Whomp! Whomp! Whomp! A Sonic Adventure. A small trumpet-playing boy listens to all types of sounds in his neighborhood and interprets them as jazz.
Raschka, Christopher. Charlie Parker Played Be Bop. A simplified version of the life of the innovative jazz saxophonist.
Weatherford, Carole Boston. Jazz Baby. A multicultural group of children play music in this celebration of jazz.
Wheeler, Lisa. Jazz Baby. The entire family helps baby fall asleep by singing jazz to her.