Spring 2016 Board Books, Part II
Last month we looked at new individual board book titles, and new entries in series. Now, let's examine board books that are adapted from picture books.
Board Books Adapted from Picture Books
Banks, Kate. Close Your Eyes. Illus. by Georg Hallensleben. FSG, 2002/2015. [34p.]. $8.99. ISBN 978-0-374-30101-9.
With deeply saturated full color illustrations, this translates well as a board book because the artwork still pops. A mother tiger coaxes her baby to sleep by describing what can be seen using the imagination. The straightforward text contains some repetition that will appeal to toddlers, who will be reassured by the story.
Bloom, Suzanne. A Splendid Friend, Indeed. Boyd Mills, 2005/2015. [32p.]. $7.99. ISBN 978-1-62979-408-2.
This board edition of the Geisel Honor title is complete, just smaller in size than the original picture book, making it appealing to toddlers as well as emergent readers. A goose sees a white bear and tries to engage in conversation that is at first one-sided, but soon they become friends. The very brief text has a joyful energy, relying most on the goose's dialogue. The full color pastel chalk illustrations focus on the two characters, and set them against a blue wall on a green rug, indicating they are indoors. Sure to be popular in the board book format.
Clement, Nathan. Job Site. Boyd Mills, 2011/2015. [32p.]. $7.99. ISBN 978-1-62979-407-5.
Using full-color digital art that is photo-realistic, readers will see a park under construction. The African American boss directs several vehicles to do various jobs; unfortunately all the drivers appear to be male. But the vehicles are identified and we learn what they do, making this a book many children will seek out.
Dale, Penny. Dinosaur Rescue! Nosy Crow, 2013/2016.[24p.]. $6.99. ISBN 978-0-7636-8000-8.
The brief repetitive text with onomatopoeia shows dinos rescuing a truck stuck on the railroad tracks. Pairing lots of vehicles and realistic-looking dinosaurs, (two popular toddler topics), this has great appeal although it is too small to use with a group.
Diesen, Deborah. The Pout-Pout Fish in the Big-Big Dark. Illus. by Dan Hanna. FSG, 2010/2015.[32p.]. $7.99. ISBN 978-0-374-30189-7.
A fish offers to find a clam's lost pearl in this rhyming story that is too long for the board book format. With four lines per page, set in small typeface, this just doesn't work. Also, the theme of self-doubt and the abundance of characters is too complex for the board book audience. Stick with the picture book version.
Gibbs, Edward. I Spy on the Farm. Templar/Candlewick, 2012/16. [24p.]. $7.99. ISBN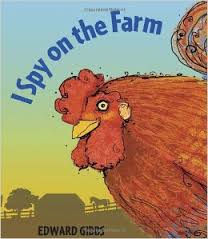 978-0-7636-8530-0.
Die-cut holes allow readers to see part of the illustration on the next page, giving a hint as to what animal is coming next. This barnyard guessing game works just as well in this board format as the original, although the larger picture book is preferred for storytime use. The brief text has a repeated phrase, "I spy with my little eye," which invites audience participation, as does the animal noises and calling out the answer to the animal name from the picture clue. Sure to be a hit, and deservedly so.
Greene, Rhonda Gowler. Firebears: The Rescue Team. Illus. by Dan Andreasen. Holt, 2005/2015. [28p.]. $7.99. ISBN 978-1-62779-240-0.
Clothes-wearing brown teddy bears work at the fire station in this rhyming story. The rhythmic, brief text and the artwork showing how fire fighters work will have broad appeal, and is successful in the board format.
Guion, Melissa. Baby Penguins Love Their Mama! Philomel, 2014/2015. [28p.]. $6.99. ISBN 978-0-399-17552-7.
On each day of the week, the baby penguins learn a new skill from their mama: swimming, waddling, preening, etc. The watercolors on white backgrounds add humor to the narrative, but where is the father penguin that took care of the egg? Still, a nice supplementary purchase.
Opie, Iona, editor. One, Two, Three, Mother Goose. Illus. by Rosemary Wells. Candlewick, 1996/1999/2016. [24p.].  $8.99. ISBN 978-0-7636-8766-3.
Fourteen Mother Goose rhymes that focus on counting have been collected into this oversized board book. The rhymes and artwork were originally part of the best-selling collections featuring Wells' charming animal characters. Although this hasn't been published as a collection before, this repackages material previously published. The board book version is perfectly suited to babies and toddlers, and would make a great baby gift as well as a purchase for libraries. Also look for the companion board book collection published in Fall 2015, Snuggle Up with Mother Goose.
Parenteau, Shirley. Bears in the Bath. Illus. by David Walker. Candlewick, 2014/2015.[30p.]. $6.99. ISBN 978-0-7636-7946-0.
Four colorful bears (who resemble Care Bears) receive a bath from big brown bear in this simple rhyming story. Both the story and the color artwork are well-suited to the board format. In fact, since the story seems aimed at babies and younger toddlers, it could be argued that the board version is preferable to the picture book.
Schories, Pat. Jack Wants a Snack. Boyd Mills, 2008/2015. [32p.]. $7.99. ISBN 978-1-62979-406-8.
In this wordless book, a dog joins a little child's tea party. The dog is interested in the popcorn being served, but soon is distracted by a chipmunk. The child could be a boy or girl, which makes this very accessible to all, and parents can use it to help children tell their own versions of the story. The illustrations appear to be done using colored pencil and light watercolors on white backgrounds, and the board version contains all the same material as the original picture book.
New Series Inspired by Books
Rinker, Sherri Duskey. "Steam Train, Dream Train" series. Illus. by Tom Lichtenheld. Chronicle Books, 2015/16, [20p.]. $7.99 each.
1-2-3. ISBN 978-1-4521-4914-1.
Colors. ISBN 978-1-4521-4915-8.
Inspired by the bestseller Steam Train, Dream Train (2013), these two books successfully use illustrations from the original to convey the concepts of counting and colors. A page with text faces a page just with the deeply colored pastel chalk artwork. The text is brief: "PURPLE. A purple engine! Off it goes – the bell rings out, the whistle blows!" Along with the concept in each title, the text also describes the animals pictured and the name of that type of train car. A nice adaptation of the picture book, these stand on their own as useful board books, appropriate for toddlers.
Wang, Jack and Holman. "Cozy Classics," Chronicle Books, 2012/16, [24p.]. $9.95 each.
Great Expectations. ISBN 978-1-4521-5243-1.
Moby Dick. ISBN 978-1-4521-5246-2.
Pride & Prejudice. ISBN 978-1-4521-5244-8.
War & Peace. ISBN 978-1-4521-5245-5.
Parents may get a kick out of these nearly wordless interpretations of historically classic novels, but these should just be baby shower joke gifts, not wasted on toddlers. Each book is illustrated with color photos of felt dolls, posed in felt scenery, along with one word per page describing what we see: "Soldier, friends, girl, dance, goodbye…" is the text of the first five pages of War & Peace (the ampersand is the publisher's choice, not mine). Save your money and buy a real learning toy.
Penny Peck,   SJSU iSchool