American Indian Library Association Youth Literature Awards Announced: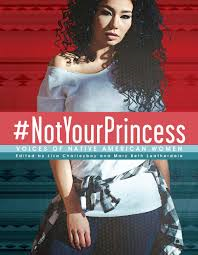 On Feb. 10, 2018, the American Indian Library Association (AILA), a division of the American Library Association, announced the 2018 AILA Youth Literature Awards. They are given every two years, "to identify and honor the very best writing and illustrations by and about American Indians and Native Alaskans."  The Award recipients are:
Picture book: Shanyaak'utlaax: Salmon Boy (2017), edited by
Johnny Marks, Hans Chester, David Katzeek, Nora Dauenhauer, Richard Danuenhauer (Tlingit speakers), and illustrated by Michaela Goade (Tlingit). Sealaska Heritage Institute.
Middle School: Tales of the Mighty Code Talkers, Volume 1 (2016), edited by Arigon Starr (Kickapoo). Native Realities.
Young Adult: #Not Your Princess: Voices of Native American Women (2017), edited by Lisa Charleyboy (Tsilhqot'in) and Mary Beth Leatherdale. Annick Press.
2018 Picture Book Honors:
All Around Us(2017), written by Xelena González (Tap Pilam Coahuiltecan Nation) and illustrated by Adriana M. Garcia. Cinco Puntos Press.
Black Bear Red Fox(2017), written and illustrated by Julie Flett (Cree/Métis). Native Northwest.
Fall in Line, Holden!(2017), written and illustrated by Daniel W. Vandever (Diné). Salina Bookshelf, Inc.
I'm Dreaming of…Animals of the Native Northwest(2017), written by Melaney Gleeson-Lyall (Musqueam, Coast Salish) and illustrated by First Nations artists. Native Northwest.
Mission to Space(2016), written and illustrated by John Herrington (Chickasaw). White Dog Press.
2018 Middle Grade Honor Book:
The Wool of Jonesy,Part 1 (2016) written and illustrated by Jonathan Nelson (Diné). Native Realities.
2018 Young Adult Honor Books:
Love Beyond Body, Space, and Time: An Indigenous LGBT Sci-Fi Anthology(2016), edited by Hope Nicholson, including stories by Anishinaabe authors Grace L. Dillon, Niigaan Sinclair, and Nathan Adler; Richard Van Camp (Dene/Tłı̨chǫ), Cherie Dimaline (Métis), David A. Robertson (Swampy Cree), Daniel Heath Justice (Cherokee), Darcie Little Badger (Lipan Apache), Gwen Benaway (Annishinabe/Mètis), Mari Kurisato (Ojibwe Nakawē), and Cleo Keahna (Ojibwe/Meskwaki). Bedside Press.
Marrow Thieves (2017), written by Cherie Dimaline (Métis). DCB (submitted by Orca Books).
Fire Starters(2016), written by Jen Storm (Ojibway); illustrated by Scott B. Henderson and colorist Donovan Yaciuk. HighWater Press.
www.ala.org/news/press-releases/2018/02/2018-aila-youth-literature-awards-announced