AASL President's Program, featuring Donalyn Miller: Donalyn Miller, 5th grade teacher / author of The Book Whisperer and Reading in the Wild, gave the keynote address for this program. She described the ways she has created a culture of reading in her classroom, and spoke about cultivating kids' love of reading in a way that was very much on-the-ground and with big appreciation for kids' interests and habits. Based on this presentation, I highly recommend her books as professional development reading for school librarians! Her specific methods don't translate directly to a public library environment, but her passion was awesome and I left feeling inspired in my own personal reading life and even more excited about connecting kids with books that they'll truly love.
Children's Librarians in the Lead: Managing Change, Inspiring Innovation & Empowering the Next Generation featuring panelists Amber Creeger, Arlington Heights; Gretchen Caserotti, Idaho; Keira Parrott, School Library Journal: This power session provided food for thought to children's librarians as they transition into management positions, and offered lots of encouragement for children's services staff to see ourselves and each other as leaders. The panelists pointed out that children's librarians have tons of leadership skills, including creativity, humor, flexibility, good public relations, and the ability to manage complex events. One of my favorite take-aways was their statement on how to be a leader: show up, volunteer to do something, do it, repeat." Another was, don't fake it til you make it; rather, trust in yourself and act with purpose. An empowering program!
Miriam Medow, Oakland Public Library, Dimond Branch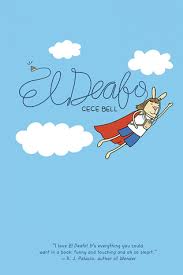 Book Buzz presented by Amulet/Abrams Publishers: The authors present and presenting were Tom Angleberger (Origami Yoda) Cece Bell (El Deafo) and Margi Preus (West of the Moon). The spotlight was on questions and as they asked for ideas on future books. I introduced myself and mentioned I did reviews for BAYVIEWS –described our association and then the suggestion I made was writing a book about sibling rivalry with a common sport or activity involved for example, ballet or tennis.
Marya Kurwa, Richmond Public Library
New ACL BayNews Posted: The July BayNews (the newsletter for the Association of Children's Librarians of Northern California) is now available on our website: www.bayviews.org/baynews.html. You will find read-alikes for Brandon Mull's Sky Raiders, and Storytime outlines on Riddles, and Rhinos. Thanks! Penny Peck