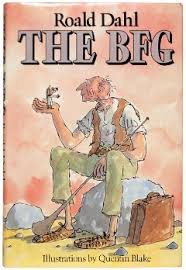 Read-Alikes for The BFG by Roald Dahl
Barry, Dave. Peter & the Secret of Rundoon.
Blade, Adam. Cypher the Mountain Giant.
Byng, Georgia. Molly Moon's Incredible Book of Hypnotism.
Courtauld, Sarah. The Gigantic Giant Goof-up.
DiTerlizzi, Tony. A Giant Problem.
Foxley, Janet. Muncle Trogg.
Funke, Cornelia. Dragon Rider.
Ibbotson, Eva. Which Witch?
Norton, Mary. The Borrowers.
Oliver, Lauren. Liesl & Po.
Rex, Adam. Cold Cereal.
Riordan, Rick. The Blood of Olympus.
Snicket, Lemony. A Series of Unfortunate Events.
Penny Peck, San Jose State Univ. iSchool