Dog Man series by Dav Pilkey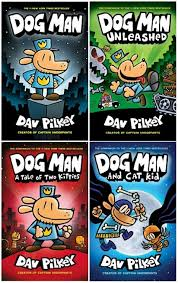 Anderson, Laura Ellen. Evil Emperor Penguin.
Blabey, Aaron. The Bad Guys series.
Boothby, Ian. Sparks!
Brockington, Drew. CatStronauts.
Brown, Jeffrey. Lucy and Andy Neanderthal series.
Burks, James. Bird & Squirrel.
Hanlon, Abby. Dory Fantasmagory.
Holm, Jennifer L. Babymouse series.
McDonnell, Patrick. The Mutts Diaries.
Peirce, Lincoln. Max and the Midknights.
Proimos, James. Apocalypse Meow Meow.
Reynolds, Aaron. Caveboy Dave: More Scrawny than Brawny.
Sherry, Kevin. The Yeti Files series.
Spires, Ashley. Binky the Space Cat.
Vernon, Ursula. Dragonbreath.
Watson, Tom. Stick Dog series.
Wight, Eric. Frankie Pickle series.
Penny Peck, San Jose State University iSchool