"Big Nate" series by Lincoln Peirce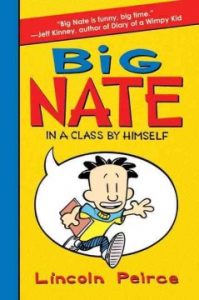 Angleberger, Tom. The Strange Case of Origami Yoda.
Birchall, Katy. The It Girl. 
Greenwald, Tom. Pete Milano's Guide to Being a Movie Star.
Griffiths, Andy. The 13-Story Treehouse. 
Howe, James. The Misfits. 
Ignatow, Amy. The Popularity Papers.
Katz, Alan. The Day the Mustache Took Over.
Kinney, Jeff. Diary of a Wimpy Kid.
Kowitt, Holly. The Loser List.
Krosoczka, Jarrett. Lunch Lady series.
McDonald, Megan. Judy Moody.
Pastis, Stephan. Timmy Failure.
Patterson, James. Max Einstein.
Russell, Rachel Renee. Dork Diaries.
Rylander, Chris. The Fourth Stall.
Scieszka, Jon. Spaceheadz.
Scroggs, Kirk. When Pigs Fly. 
Tatulli, Mark. Desmond Pucket.
Wight, Eric. Frankie Pickle series.
Willnik, Jocko. Marc's Mission: Way of the Warrior Kid.
Penny Peck, San Jose State University iSchool